Jonathon Harker
UPDATED: The team at Technifast has raised the bar again, to an M20 size:
Jonathon Harker
ORIGINAL STORY: Technifast has extended its range of self-tapping blind inserts with the introduction of the largest-sized insert the company has manufactured to date.
The latest addition to Technifast's product portfolio is an M16 x 35mm blind self-tapping insert, manufactured from Marine Grade Stainless Steel 316 (A4), with a 2.0mm pitch internal thread, external OD of 25mm with a shoulder and three cutting relief notches.
The blind self-tapping inserts now range in size from M3 to M16, and the internal and external threads can be adapted to suit a customers' particular requirement.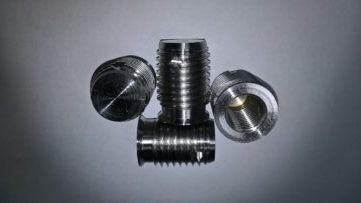 Jonathon Harker
"The addition of an M16 insert to our product range demonstrates our ability to respond to the demands of today's markets," commented Technifast Managing Director Louis Speed.
"We are seeing an increasing amount of enquiries from composite companies, especially in the marine industry, and our larger-sized blind self-tapping inserts were specifically developed for use in marine applications where fluid ingression along the internal thread could be an issue."
Technifast was recently involved in a marine-based historic restoration project, refitting Nelson's flagship, HMS Victory.