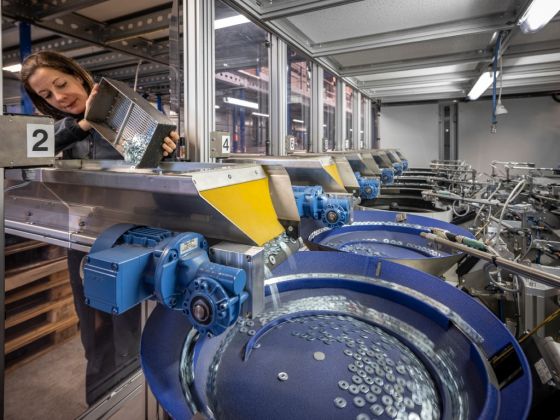 Jonathon Harker
Family firm Stafa has been in the fastener business for more than 43 years. Headquartered in Maarheeze, in the Netherlands, Stafa has delivered for projects in more than 50 countries and recently underwent a significant rebrand. Poised to launch a range of new services and products following the brand revamp and the creation of a new webshop, Stafa talks to Torque about its vastly expanded services and just how much the firm has changed in recent years…
Have you got any new launches in the offing? 
Yes, we are launching our brand new  range of professional drywall screws. They have great packaging and are very good quality products. They have just arrived [at time of writing] and we are already selling those at high speed. Furthermore we will be launching our new Kan-Ban department and systems, with a new team, including well-known people in the market.
You've also got a new webshop launching in 2020 - what kind of features and improvements does that have over the last version?
As a company, it is extremely important to continue to develop, not only in good times, but also in less good times. Our webshop had been around for a number of years but was separate from our ERP system. Since we are going to launch a completely new ERP system at the beginning of 2020, a new e-shop is also part of this. Everything will be integrated so a change made somewhere is immediately implemented throughout the entire organisation.
The new e-shop is equipped with handy  filters, which will be familiar to you from the more well-known webshops, and make searching a lot easier. Also, the design of the entire e-shop will be renewed, as will the design of the catalogue.  This makes it more logical for customers to find and order things quickly. The layout is also completely up to date, which is not unimportant, and is in line with our new house style.
Speaking of which, Stafa had a big rebrand in 2019. What has the reception been like in terms of your customers and also of the wider market?
Our new corporate identity has been very well received by everyone, both internally and externally. We are still in the middle of implementing all the different aspects of it across the business. In December 2019, we launched our brand new website and redesigned our leaflets and brochures. We got a lot of positive feedback from these developments. Of course, there are many things that still need to be changed, for instance the new webshop, the signage outside our headquarters and much more.
We are doing this step-by-step and we are very proud of the result so far. The rebranding is an important step for us, because we want to establish Stafa
more and more as a brand and professional company. We have so much to offer that different customers sometimes don't know about. In doing so, we remain
personal and flexible at all times; we consider this to be extremely important and we will never lose sight of it.
Stafa seems focused on working closely with customers and finding innovative solutions for them - is that fair to say?
This is certainly true. As a partner, we are increasingly moving up the chain and taking a lot of worries away from our customers. In the past, for example, we
only supplied screws for a semi-finished product; nowadays, we give advice on which coating the customer should use in certain circumstances, we take over part
of the purchasing and sourcing and we assemble the semi-finished product in-house and we give advice how the semi-finished product can be improved. This is
a great help for our customers.
People who know us from the past and who haven't been here in a long time often do not believe what they see when they walk in. Of course we are still a real trading company and importer and we will never lose sight of this.
Stafa supplies a broad range of sectors, including energy, construction, rail, etc. Have any of those in particular grown in 2019 and do you expect any of the sectors to grow in 2020?
A big advantage for us is that our customer base is very diverse. That is why we are never too dependent on certain sectors. At the moment, the construction
and automotive industries are of course uncertain; which we also notice, but fortunately we have more than enough work in other sectors. At the moment there are no sectors that really stand out for us.
Stafa's broad range of services includes container shipping - are you seeing an increase in demand for that service?
We have been offering this service for nearly 20 years and yes we also see growth here. As we are using our partner factories, and we are very keen on quality
packaging and product quality, our customers immediately benefit from this. They get access to an international network of quality producers. And our
clients have no worries about distribution or customs and get global door-to-door order monitoring – anywhere in the world. Container import with Stafa makes
importing from the global market accessible to every company.
Looking ahead, do you foresee further range expansion for 2020? Or more focus on efficient services... or both?
For us the focus will be on efficiency and offering full-service. This is where we excel and we make a difference.
We hear an increasing amount about growth in demand for greater sustainability and environmental practices – is that something Stafa is hearing from the market too?
As a company, we care about our people and the environment so we do what we can to make the world a better place. We have the following implemented procedures and policies: A Quality Policy Statement, an Environmental Policy Statement, a Health and Safety Policy, Code Of Conduct and we strictly follow
the United Nations Global Compact's Ten Principles.
What should we be looking out for from Stafa in 2020 and beyond?
As already mentioned, we will be launching new services and products. I am sure that with our new rebrand, we are really offering and showing something unique in the market. This will also help us to further grow… and always step-by-step, as we always do at Stafa!
Any final thoughts to share with Torque readers?
Make sure you check our brand new website, with 3D visuals. It will give a greater picture of where we stand, what we do and what we are able to offer. And
that range of services and products may be more than most of your readers might know about. We would be very happy to hear from you or see you at upcoming
shows, so we can talk and discuss where we maybe could be of help to you.