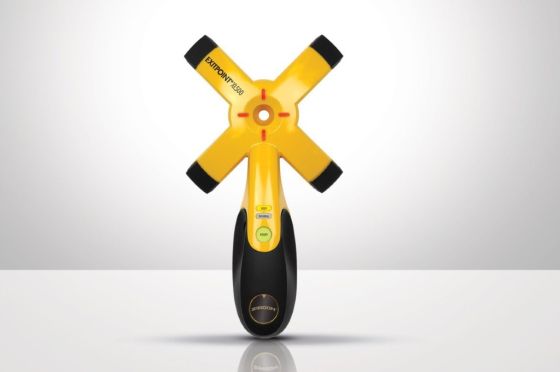 Maker of the original stud finder, Zircon Corporation, announced the launch of the SuperScan™ K2 and K4 advanced stud finders and the ExitPoint™ XL500 Through-Hole Drill Guide at the International Hardware Fair 2022 in Köln, Germany, 25 - 28 September. Visitors will get the chance of a hands-on opportunity to assess Zircon's next generation of wall scanning and through-hole drill guide technology.
Featuring Target Control™ (TC™) technology, the SuperScan K2 and K4 locate wood studs and not metal pipes, ducts, protector plates, PEX tubing, and conduit hiding behind the wall. TC allows users  find the safe drill zones along a wood stud and avoid dangerous objects.
Some stud finders lack filtering and intelligence, creating a potential risk to any project. With TC, users can have real confidence before penetrating the wall surface.
Zircon's patented DeepScan feature on the 3-mode SuperScan K2 model, offers double the scan depth through multi-layer surfaces like panelling, flooring, etc. up to 38 mm thick.
A step above, is the professional grade, 5-mode SuperScan K4, and it has added Metal Scan mode to detect ferrous and non-ferrous metal, as well as a dedicated AC Scan mode for live AC electrical wire tracing capabilities.
ExitPoint XL500
Zircon's latest innovation in the drill guide category, The ExitPoint XL500 Through-Hole Drill Guide, is aimed at professional cable and HVAC installers, electricians, and contractors. With magnetic detection technology, the XL500 is a 'must-have'  for cable and wire installations, solar panel installs, and anytime through-hole drilling is required.
Using its two scan modes, the XL500 can scan through most types of non-metallic building materials such as wood, drywall, gypsum, brick, and poured concrete up to 10 cm thick in Normal mode and up to 22.9 cm thick in DeepScan® mode.
Zircon CEO John Strauss said: "When it comes to finding the safe-to-drill zone, Zircon has you covered: "We design affordable, easy-to-use stud finders, metal detectors, and through-hole drill guides with the professional contractor and DIYer in mind. With our attractive pricing, retail distribution, and positive customer reviews, Zircon's tools exemplify the best in innovation and state-of-the-art technology."
Whether you need to find the safe-to-drill zone a long a wood stud, find the rebar in concrete, or determine the precise exit point location for drilling or coring applications, Zircon has the tools for the job.
Zircon invites potential distributors to visit them at Hall 10.2 Space G28. Where expert staff will be ready to talk about Zircon's quality, short lead times and excellent fill rates.
Also on show will be a range of Zircon stud finders, metal detectors, circuit breaker finders, electronic water detectors, and speciality tools ready for demonstration. All tools are backed by Zircon's limited warranty and offer patented technology, propriety features, and the latest innovations in scanning devices.