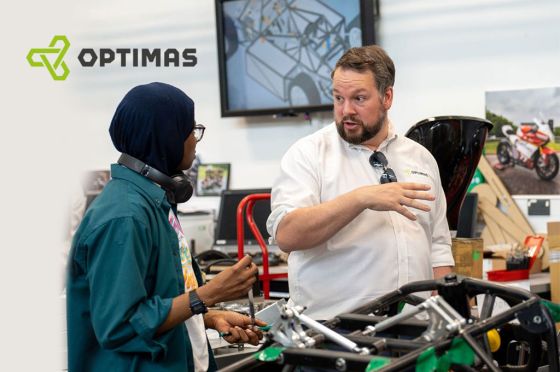 Recently, Optimas visited Warwick Racing at the University of Warwick's International Manufacturing Centre, as the team finalised their vehicles for this year's Formula Student UK Race, taking place at the end of July.
With 21 years of racing experience and seven generations of internal combustion cars, the Warwick Racing team, made up primarily of student engineers, partnered with Optimas earlier this year for engineering support in building their internal combustion, electric and AI racing cars.
Calling upon their mechanical, systems and electrical engineers, the 100-strong student team have recently completed the uprights, batteries and braking systems of their three vehicles, using fasteners and components supplied by Optimas.
Alongside imparting light-weighting, material selection and BoM analysis expertise, Optimas have supplied the Warwick Racing team with a wealth of fasteners and components in varying lengths, diameters and materials.
Prem Singh Gill, Warwick Racing's Team Principal, said, "having access to such a wide range of fixtures has been invaluable to us. When building something as bespoke as this, you never quite know at the beginning exactly what you'll need. Having the ability to test so many different types of parts has been so useful, particularly in building our electric car where light-weighting is so important."
Simon Wright, Director, UK Business Development & International Marketing at Optimas, said, "Fasteners are often the last things that people think about in a production build, and yet they can make up the majority of a Bill of Materials. It's so important to teach our future engineers the importance of these parts and how they can impact not only speed to market but the quality of a build itself."
Offering invaluable insight into the technical realities of vehicle design, manufacture and performance, Optimas are proud to be helping facilitate these young people's journeys into the professional world of STEM. This year Optimas has invested not only in high-level motorsport, but also in engineering education, and this partnership with Warwick Racing strikes a perfect balance between the two.
The Warwick Racing team have their own aspirations for sharing STEM knowledge. Working closely with the Warwick Manufacturing Group, the team regularly host secondary school students for hands-on work experience, alongside holding career open days and conducting school visits, with a particular emphasis on encouraging girls to take up careers in engineering.
Prem said, "we don't want to keep all this knowledge to ourselves; it's so important to share what we've learnt with others." Echoing Optimas' educational ethos, Optimas is proud to be working with such a talented and community-driven team and looks forward to seeing them drive success in their upcoming race.
https://international.optimas.com