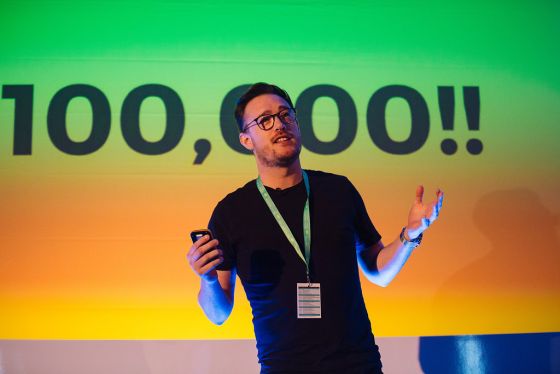 hayley_everett
Lee Wilcox, CEO of online social media construction company On The Tools, has been announced as a keynote speaker for tomorrow's StartUp 2019.
Wilcox will be joined on the day by a number of other notable speakers to share the secrets of their successes, including Steve Moore, founder of social darts chain, Flight Club, and Beth Noy, founder of the plastic-free, e-commerce platform and campaign, Plastic Freedom.
StartUp 2019, now in it's fifth year, will feature around 100 speakers who are experts in their fields, and is an ideal opportunity for would-be entrepreneurs to pick up the insight, skills and inspiration to get themselves off to the right start.
The day-long event has seen 9,000 previous attendees, and will include a number of break-out zones and stages, including a number of talks where attendees can pick up business and brand essentials, alongside the main keynote stage which Wilcox will be speaking on.
Wilcox said: "I'm honoured and excited to be speaking at the StartUp 2019 event, and sharing the story of how On The Tools got started, and how we worked our way up to the point we're at today. As someone who started On The Tools, alongside my previous job in a sports franchise, i understand exactly what it is like to juggle an idea, a dream, a potential gap in the market - with the security of a full-time job. And what it means to take a leap into the unknown!
"I'm hoping that my experiences will help inspire new entrepreneurs into following their vision - there's so much potential in the world. We just need events, like StartUp, to give people the push, the skillset, and the opportunity, to take hold of it."
On The Tools was conceived by Wilcox and his friend, now Creative Director, Adam Barrie, on Friday night in 2014. Five years later, the business, named 3rd highest Branded Content Publisher in the UK, has amassed over 2.5 million followers on Facebook with over two billion views across their channel in the last two years.
Emma Jones, the founder of Enterprise Nation, said: "Soon half of us will be running some kind of business and making money for ourselves. For many, this will mean starting up whilst still having the security of employment, but we know many of those people move on to run their business full-time. It's just a new way of living and working but it's not necessarily about looking for ways out of the corporate structure, it's about finding a creative outlet, spotting a gap in the market or a need to drive independent innovation.
"We are expecting thousands of wannabe entrepreneurs to come along to our epic annual event. They will be like sponges, soaking up all the inspiration and practical skills they can to be ready to start their own business in 2019."
StartUp 2019 is taking place tomorrow at Kings College London, starting at 9:30 and running until 4pm. Tickets are available here from Eventbrite and are priced at £10.