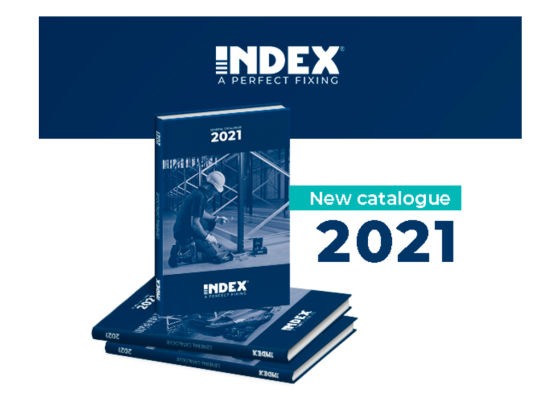 liberty_sheldon
The manufacturer and industrial supplier, INDEX A Perfect Fixing, has launched its new 2021 general catalogue, which features over 7,000 references, in addition to over 650 products and 150 novelties.
The novelties include the new range of TH/TF anchors for direct fixation on concrete, a range made up of 9 models of anchors with different heads, lengths, coatings and diameters. Manufactured entirely at INDEX, the range is approved according to ETA Option 1, seismic approval in categories C1&C2, and is fire resistance certified.
Its optimised thread ensures maximum loads in addition to allowing installations up to three different depths. A detachable, reusable anchor that is added to the range of metal anchors as the new female anchor models (sherardized and short) and new measures in the range of MTH Inox A2 anchors.
INDEX has extended its catalogue of approved chemical anchors with the new MO-PU universal polyester resin and the MO-PS+ styrene-free polyester with a novel handling indication, which facilitates installation work by indicating the curing time.
The new catalogue also includes the most recent developments launched last year, such as the new range of hybrid MS adhesives and silicones. The range of INDEX® Hybrid MS Polymer adhesives mixes the strength of polyurethane with the insulating properties of silicone, creating a product with high adhesive performance, combining the advantages of both materials.
Silicones, available in a variety of colours and properties, are resistant to water and adaptable to different materials, which makes them a professional solution for assembly and sealing of joints in different surfaces.
A total of over 150 novelties are included, which, in addition to those mentioned above, include others such as a major range of wire and chain accessories, extension of the range of hardware fixtures, new heavy and/or thermal insulation metal clamps, detectable nylon flanges, as well as a significant extension of the profiling and support range.
The catalogue available on its web page is fully digital and interactive, facilitating browsing among all its ranges and enhancing user experience.
Are you in the fastener, tool, fixing or related industries? You can subscribe to Torque Magazine or sign up to our weekly newsletter.