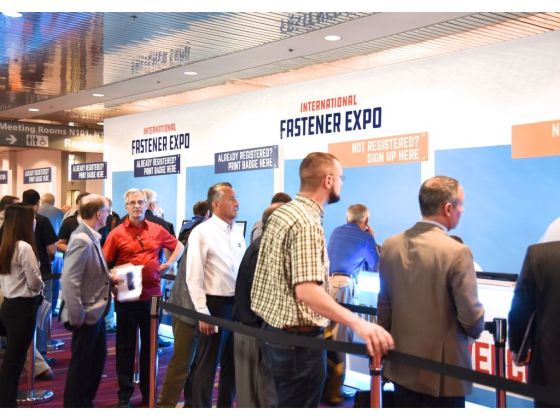 hayley_everett
As the International Fastener Expo celebrates its 40th anniversary, Torque Magazine speaks with Morgan Wilson, Show Manager, about what attendees can expect and what Covid-19 measures have been put in place...
This year, International Fastener Expo celebrates the 40th year of the show and will boast a variety of events to add to the experience. Attendees will be able to enjoy a reception at Mandalay Bay's Daylight Pool as well as the annual Hall of Fame and Young Fastener Professional Awards. IFE will also be welcoming a new class on honourees at the 2021 event.
Show Manager Morgan Wilson says: "Visitors of the IFE can expect unmatched opportunities to network and connect, world‐class education through a variety of conference sessions, special events and opportunities to connect on and off the show floor. IFE 2021 will feature a robust conference schedule with highlights on new technology, industry trends, technical topics, and more." A full conference agenda will become available in the coming weeks.
Thousands of attendees, buyers, and sellers from across the entire supply chain are present at the International Fastener Expo each year. VIP attendees are consistently included in Industrial Distribution's Big 50 List and exhibitors are among the top international and domestic distributors, manufacturers, material suppliers, tooling and machinery providers and ancillary services.
Top confirmed companies that will be in attendance this year include Fastenal, Wurth Industry of North America and Optimas. The 2021 show floor will also give attendees the chance to meet with representatives and explore top products from exhibitors such as Brighton‐Best International, Lindstrom, Stelfast, Nucor Fasteners, Star Stainless and Copper State Bolt and Nut.
Wilson says: "We currently have almost 400 exhibitors confirmed, and more attendees/vendors are registering every week. With a couple months to go we expect a strong showing! Following COVID it will likely be a little smaller than normal but we are confident it will create for high quality interactions, so you can still expect the same top‐notch networking and education as in the past."
With the pandemic and restrictions on everyone's mind as the Delta variant causes cases to increase globally, many shows have once again been postponed or cancelled. Wilson tells Torque Magazine that the International Fastener Expo has developed a comprehensive health and safety plan in conjunction with its parent company, Emerald and the CDC, WHO and state/local authorities, to ensure that the event adheres to the correct guidelines.
"Our team is committed to creating an event experience where everyone can safely and effectively conduct business," says Wilson.
Some safety measures at the International Fastener Expo 2021 include:
Per CDC guidelines, attendees who are fully vaccinated are encouraged but not required to wear face masks. Attendees who are not fully vaccinated must always wear a face mask.
Daily, heighted cleaning and sanitising of all public spaces.
Hand sanitiser stations will be positioned at key locations throughout each facility.
Aisle widths on the exhibit floor may be increased to accommodate facility recommendations.
Wilson tells Torque Magazine: "Last year was a trying time for all. Throughout the pandemic, I was consistently inspired by the way the fastener industry navigated unprecedented challenges and quickly adapted to continue to support its customers. Although we can't deny the value of virtual opportunities, the personal connection that exists at in‐person events is difficult to replace and we can't wait for the industry to come together once again in Las Vegas!"
This article was first published in Torque Magazine. Don't get the mag? You can apply for a free subscription online today. Or take a look at back issues in the Torque Magazine archive.