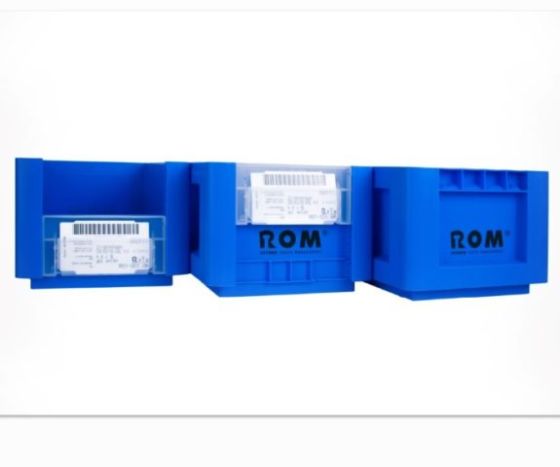 Jonathon Harker
With its vast experience in the sector, REYHER is ideally placed to design a Kanban container. Here, the super distributor runs through the benefits of ROM | LTB with Torque Magazine…
Years of practical experience have been put into the design of the new ROM | LTB container – a concept developed by REYHER in cooperation with SSI SCHAEFER. It can be deployed anywhere in production and logistics where material replenishing is steered by Kanban systems.
The new REYHER container is fitted with an extremely versatile sliding mechanism that can - in one action – be transformed from an open visible storage container into a transport container. When transporting nuts, screws or other fasteners the sliding mechanism is simply pulled up with no need for extra load securing plug or flap elements, or other label holders. This saves time as well as environmental resources.
When the container is in use, the sliding mechanism is switched into its lower position, creating a generous opening for removing materials from the container. Where space requirement is an important factor, the new ROM | LTB scores with up to a 28% higher fill volume compared to conventional containers. By optimising space, storage capacity is increased. And that's not all: the REYHER container can be combined with many common sloped or flat bottom shelving systems. With a depth of 297 mm and a width of 197.5 mm it helps to optimise shelf space so in a standard shelf rack (1,000 mm wide) five containers can be placed side-by-side instead of the usual four containers.
Labelling is just as flexible – the transparent label holder in the sliding mechanism on the front of the container protects the label from being soiled or damaged and it cannot fall out. Handily, the label is not permanently fixed to the container so it can be easily exchanged. For companies where VDA regulations apply, there is a special label holder available on the side of the container for labels, in line with VDA standards.
When designing the container, various considerations were taken into account: When small items are stored in the ROM | LTB the rounded interior bottom makes removing items easier. For heavy items, stability is provided by the strengthening rib-structure on the outer base of the container. Ergonomic aspects are taken care of by the recessed grips on the containers, which have extra robust strengthening. The openings on the top edge of the container are for automatic handling by systems or robots.
The ROM | LTB container is also aesthetically pleasing, in a subtle shade of blue. In addition the sliding mechanism closes up completely in every position, which not only looks smart but is also good for operational safety, since no small material remainders can slip out and disrupt the shelving system.