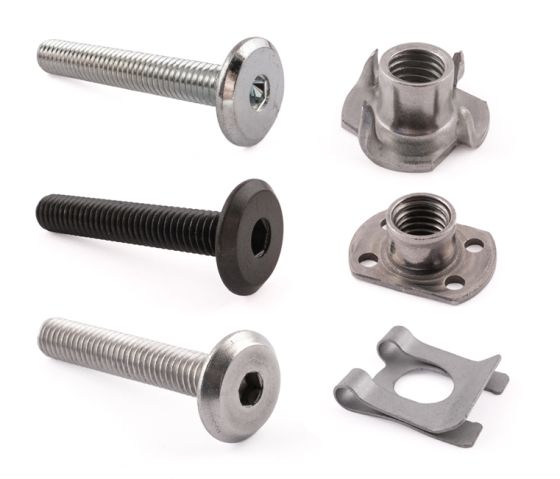 hayley_everett
SD Products will be presenting new ranges of stainless, spring and mild steel fasteners at Fastener Fair Stuttgart, taking place 19-21 March.
The stockist will be showcasing several new lines of mild and stainless steel connector bolts, while nuts have been added to its furniture fastener range now available in zinc, yellow zinc, bronze and black finishes.
SD Products holds a large stocked range of connector bolts, ranging from M6x12 through to M6x150, alongside other sizes in M8 in zinc and yellow zinc. These fasteners are designed to be used with connector caps nuts, where the nut applies an axial clamping force and the shank of the bolt acts as a dowel, pinning the joint against sideways shear forces. SD's connector bolts are suitable for a variety of furniture applications due to flat, low-profile bolt heads allowing for a decorative finish.
The stockist is also planning to present a newly available range of 12-150mm safety clips, manufactured from high grade spring steel which offers substantial stress and corrosion resistance while withstanding considerable forces without distortion. High yield strength of spring steel in SD's safety clips allows them to return to their original shape even after substantial deflection, twisting or compression, without suffering significant deformation. The clips are suitable for both domestic and industrial applications and can be easily installed or removed by hand.
Additionally, SD Products has increased its range of mild steel slab base t-nuts and added a new range of stainless steel four-pronged t-nuts, which can be used for a range of purposes in automotive, domestic, furniture and industrial applications. Due to being durable, reliable and low-cost, these fasteners are designed to securely anchor particle or composite materials like wood and plastic to a work piece and are produced from high quality mild and stainless steel.
SD Products is a stockist distributor of specialist fasteners based in Sutton-In-Ashfield, Nottinghamshire which supplies products across all industries. The company is able to offer speedy deliveries with next day dispatch to the UK and free local delivery around the Mansfield and Nottinghamshire area.
SD Products can be found at stand 330, hall 1 during the show.
This month's Torque magazine includes a whopping Fastener Fair Stuttgart 2019 show preview, listing some of the must-see exhibitors and products at the big show. The mag is arriving through letter boxes now, but if yours hasn't arrived yet or you are not a subscriber, you can view the whole thing online here.