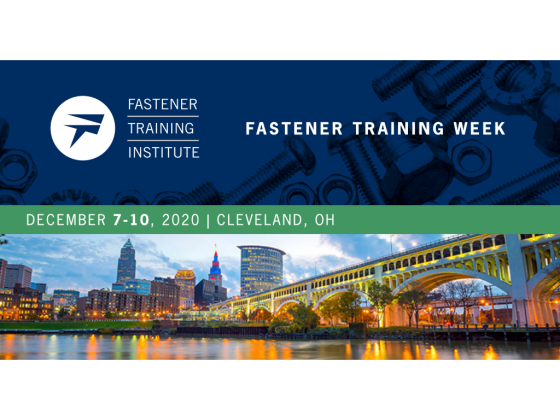 liberty_sheldon
The Fastener Training Institute has announced that its Fastener Training Week will be offered in person on the scheduled date of 7-10 December with safety guidelines in place.
The Fastener Training Institute and host company Solutions Industries place safety at the top of their agenda with guidelines that include masks and temperature checks, physical distancing, adhering to all State of Ohio regulations
Fastener Training Week offers four intensive days of education and plant tours as part of the acclaimed FTI Certified Fastener Specialist™ (CFS) advanced technical training program. After completing this invaluable industry training in a small group environment and passing a final exam, attendees are eligible for the Certified Fastener Specialist™ (CFS) designation.
One course participant said: "The CFS program drastically shortened my learning curve regarding fastener specifications. The program materials were well organized and professional. Each instructor was very knowledgeable and infused the lesson topics with real world examples. CFS is a great program taught by excellent instructors. This course helped me gain a solid understanding of mechanical engineering and develop the technical knowledge important to this field. It also makes me realize the complexities and challenges we face, and that makes the work even more interesting."
The Fastener Training Week will feature learning labs, interactive exercises and quizzes to reinforce learning taught by leading industry experts. The content includes manufacturing processes, consensus standards, quality control and includes a day of plant tours of manufacturing, secondary processes and testing facilities.
Topics features at the Fastener Training Week will include:
Thread and material specifications
Process and dimensional specifications
Quality assurance systems and specifications
Lot traceability and test reports
Print reading and tolerances
Thread gaging and dimensional inspection
Torque tension
In addition to learning labs, interactive exercises and quizzes, Fastener Training Institute (FTI) is partnering with manufacturers to provide virtual plant tours.
Additional training topics and more details on course content can be found here.
Are you in the fastener, tool, fixing or related industries? You can subscribe to Torque Magazine or sign up to our weekly newsletter.