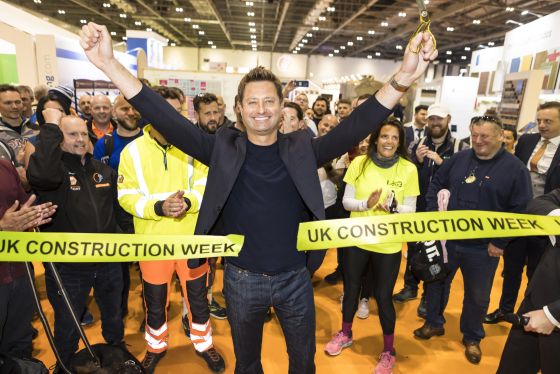 Visitor registration for UK Construction Week Birmingham (UKCW Birmingham), the UK's largest event for the built environment, is now live, with the popular three-day show returning to Birmingham's NEC from October 4-6, 2022.
The show will celebrate culture change in construction with three days of debate and discussion from top speakers on how the industry can move forward to tackle its biggest issues, including quality, fire safety, sustainability, offsite manufacturing, mental health, and improving diversity and inclusion. 
Visitors will also be able to find sections dedicated to Building materials, Digitalisation, Infrastructure, Energy, HVAC, Surface & Materials, Timber, Offsite Construction and Skills & Careers.
Officially opened by architect and Channel 4 presenter George Clarke, UKCW Birmingham will also feature sessions and seminars led by industry experts across the show's six stages:
UKCW Main Stage - used to tackle overarching construction industry topics, with a mixture of keynotes, panel debates and case studies from industry leaders. 
Sustainability Hub - forming the conference programme at the heart of Timber Expo, the hub programme will tackle the issues, layout strategies and present case studies to help the sector reach its net zero targets. 
Infrastructure Hub - the main feature content of Civils Expo, the Infrastructure Hub will deliver a three-day programme of case studies debates, networking opportunities, keynote speeches on crucial issues, from digitalisation to improving quality and sustainability.
Digital Construction Hub - the show's beating heart of innovation will deliver a series of presentations and panel discussions including topics such as Information Management using BIM.
CPD Hub – a mix of industry relevant CPD's delivered by industry experts, association partners, government departments and exhibitors.
Offsite Alliance Hub - three days of debate, looking at how to change the way we think about construction to deliver high quality homes for future generations. 
In addition to the main stages, the Careers Centre will provide a series of talks aimed at those interested in a career in construction, whether that be graduates, students in further education, or those looking at a career change.
UKCW Birmingham will see over 6,000 products on display from over 300 exhibitors including Bosch, Schneider Electric, Google, Graco Distribution, Wavin, Cemex, Hanson Plywood and many more. This year, the show has also attracted an abundance of overseas exhibitors, including brands from Australia, India, Norway, Turkey and the UAE. With more than 75% of exhibitor slots already taken (see the full list here) UKCW Birmingham is on track to be the biggest and best yet.
Nathan Garnett, UKCW show director, commented: "This will be the seventh edition of our Birmingham show bringing together the whole industry. Following the hugely successful launch of the first-ever London show earlier this year, the standard has now been set for UK Construction Week Birmingham and we can't wait to unveil the exciting plans and features we have in store for this year.
"Although the construction sector makes up a significant proportion of the UK's working population, we're all aware of the huge skills shortages in the industry, and with the impact of the global pandemic and current climate, the importance and the appetite to raise awareness of the fantastic opportunities in this sector has only increased. As one of the youngest and most dynamic cities in Europe, Birmingham is the ultimate setting for this show, and we can't wait to be back."
Co-located events at UKCW Birmingham include Timber Expo, Green Living Live (5-6 Oct only), and Grand Designs Live (5-6 Oct only). Ticket Holders will gain free access to all co-located events. There will also be an Institute of Builders Merchants conference on 5th October (paid for entry).
To register for UKCW Birmingham for free, go to UKCW Birmingham registrations