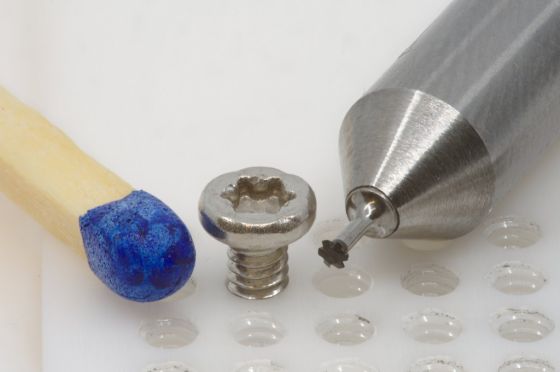 MACH 2022 from 4 to the 8 April is the setting for the introduction of several new tooling ranges from Rainford Precision. Early birds may be able to get their hands on one of 300 free Union Tool V-series cutters.
Rainford are also introducing two new brands to the UK – 6C Tools AG and BSQ Tech GmbH. Rainford is a specialist small manufacturing solutions so the new additions should be a perfect fit.
For the experts among us – 6C Tools AG are manufactured by laser ablation, not by grinding or spark erosion. The result of this more gentle material removal is to avoid damage to the tool and to increase wear resistance, so that users can expect a potential 5 or 10 times increase in tool life.
The 6C product catalogue covers a range of milling, drilling and threading tools designed to machining tough materials like ceramic, tungsten carbide and even sapphire.
This makes the 6C range ideal for manufacturing in the optical, medical, jewellery and semi-conductor industries.
The huge range of tools in the 6C catalogue includes micro drills, chamfer tools, polish mills and flute ball mills. They come in a bewildering array of sizes and lengths that only a closer examination will satisfy.
When it comes to the softer stuff  like aluminium and alloys, copper, brass plastics and PEEK, Rainford has another treat in store. The SwissCeramill series  of cutting tools from BSQ Tech GmbH can increase tool life from 5 to 25 times and improve productivity by 400% compared to standard carbide cutting tools used in a high-speed machine. But even with a standard machine productivity gains are possible for automotive, aerospace, medical mould and tool applications.
The tools are manufactured from high-tech ceramic zirconium oxide  and are available  in a number of chamfer, radius and profiling configurations.
And that's not all. Rainford Precision will be demonstrating  high quality ranges of cutting tools from Louis Belet, HOBE, DTS, Osawa, Iwata and ATOM. Rainford Precisions experts will be on hand to advise and discuss ultra-precise machine tooling  from Kem, Lasea and micro waterjet machining from Finepart. A vidit to stand 573  in Hall 20 could be the start of a solution.
Other exhibitors heading to MACH 2022 include power tools and accessories manufacturer FEIN.
www.rainfordprecision.com
Are you in the fastener, tool, fixing or related industries? You can subscribe to Torque Magazine or sign up to our weekly newsletter.