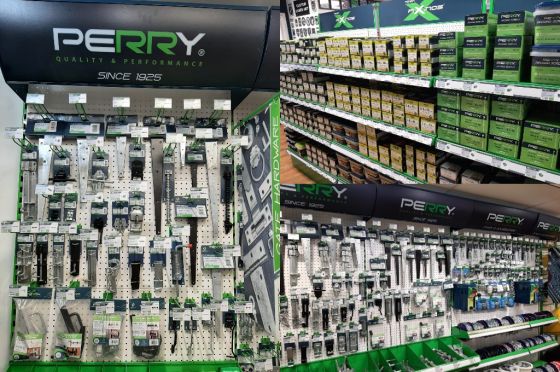 For the first time since 2017, A Perry Ltd has invited merchants, customers and guests through its doors for an open day to launch a range of new initiatives and items. Visitors were given a tour of the ever-expanding facility and had the opportunity to see some of the new products the company has developed.
Established in 1925, the fourth generation of the Perry family are now working in the West Midlands based business and were keen to reveal the latest on offer including the new Perry Fixings collection and the award-winning Eco Packaging.
With a focus on sustainability and a reduction in plastic consumption, the new packaging was in development for several months as the team tested materials, shapes, sizes and configurations to get the job done right. Where products previously used plastic bags or plastic windows to display products, these have been removed and replaced with cardboard boxes and hangers that feature images of the products – which were all shot in house. Up to 95% of the plastic has been removed and any residual plastic that remains on a limited number of items, is recyclable. Even the robotic warehouse has gone paperless with just the packing slip as the only paper used in the process.
The collection will be rolled out from July.