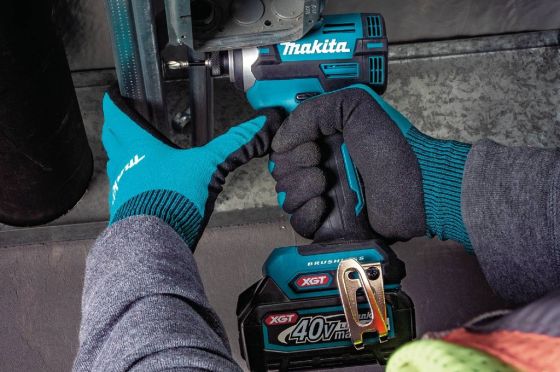 Makita®, an innovator in cordless technology, continue to expand the 40V | 80V max XGT® System with the announcement of 9 new products. The new releases span trades and applications including outdoor power equipment, concrete, fastening, and lighting.
The new releases are part of Makita XGT®, a system of 40V and 80V max cordless equipment and tools. This gives users one system, from core handheld tools like drills and impact drivers to equipment-grade products including high-capacity saws, rotary hammers, and power cutters – all powered by 40V max XGT® batteries.
Wayne Hart, Senior Communications Manager of Makita U.S.A. commented that "It's been just under two years since launch, and already the XGT® System is pushing 125 40-volt and 80-volt products in 2023," said. "With this rapid expansion Makita is delivering on the XGT® promise of more cordless products to replace tools and equipment traditionally powered by gas, cords, and air."
The following are the new XGT® products announced inJanuary 2023:
40V max XGT® Brushless Chainsaws (GCU04, GCU05, GCU06) – All three models feature a Makita-built brushless motor that delivers the power of a 42cc petrol model, with chain speeds at 5,020 FPM. The GCU04 and GCU06 feature an 18" bar while the GCU05 features a 16' bar. They also have long run time: Models GCU04 and GCU06 deliver up to 40 cuts in 12" cedar on a single charge of a 40V max 5.0Ah battery.
40V max XGT® Brushless 21" Self-Propelled Commercial Lawn Mower (GML01) – The high torque Makita-built brushless motor delivers petrol- performance for efficient grass cutting, but with lower noise, less maintenance and zero emissions. The battery bay holds two 40V max batteries, and automatically switches to the second battery when the first is depleted. This provides an extended run time that can cut up to 1-1/5 acre on a single charge when running two 40V XGT® 8.0Ah batteries.
Concrete Trades have the 40V max XGT® Brushless 8' Concrete Vibrator (GRV02) and 40V max XGT® Brushless Cordless 5-1/2' Concrete Vibrator (GRV01) - Both concrete vibrators deliver up to 15,500 vibrations per minute (VPM) and up to 60 minutes of run time in the normal mode setting. Ideal for working away from a power source.
In  Fastening trades use the 40V max XGT® Brushless Cordless 4-Speed Impact Driver (GDT02D) – The GDT02D has 4-speed power selection with an ultra-smooth variable speed trigger providing optimum control. The compact length of only 4-3/4" makes it ideal for working in tight spaces.
Site  Lighting has the 40V max XGT® Upright L.E.D. Area Light (ML010G) – This provides light to large areas with three modes of operation including 5,500 lumens on High, 3,000 lumens on Medium, and 1,500 lumens on Low. It features multiple power options and will run on an XGT® or LXT® battery, as well as corded power with the on-board AC inlet.
The 40V max XGT® Lantern with Radio (GRM04) – It is compact and portable with a long list of handy features,  and the GRM04 delivers 310 lumens in a 360° pattern. It also has an L.E.D. flashlight providing 200 lumens, a digital tuner FM radio, Bluetooth® connectivity, a USB charging port, and metal hanging hook.