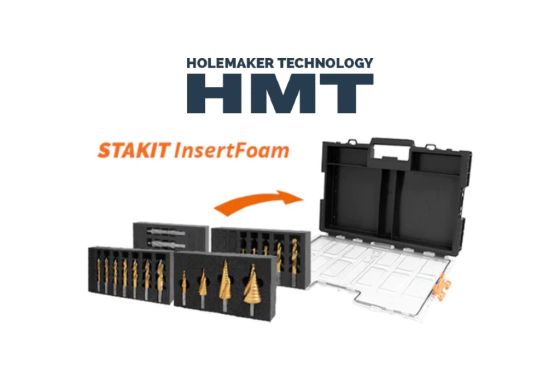 HMT has entered the Made In Britain Impact awards with its new sustainable packaging solution – STAKIT InsertFoam.
The InsertFoam system is a series of customisable, modular foam inserts designed to transport, protect and organise metalworking tools. The new system is part of the company's commitment to sustainability and efforts to minimise its impact on the environment.
Previous packaging was sourced from China as bulky, single use, unsustainable materials, while InsertFoam is now sourced from a UK supplier, made from 30% recycled materials, is compact, modular and reusable and was intentionally designed for a long life.
The move away from unsustainable, single-use plastic to reusable, recycled packaging will mean not only a reduction in waste but also reduce the company's environmental impact and reduce the carbon footprint throughout the supply chain.
In addition to the wealth of environmental advantages offered by the new system, extensive development work has gone into ensuring that STAKIT InsertFoams dramatically enhance operations for their end user as well.
The design features movable fins engineered to accommodate multiple varieties, sizes and styles of tooling, allowing metalworkers to customise their toolkits. In much the same way as each individual InsertFoam can be customised, the system itself is modular and numerous foams can be integrated into the STAKIT system, allowing the user to assemble, disassemble, and reconfigure elements to fit different cases, different jobs and different requirements.