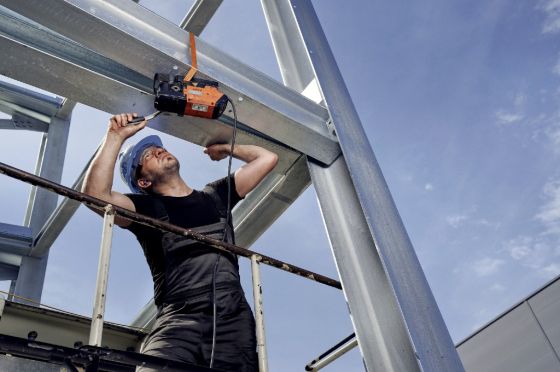 Power tools and accessories manufacturer, FEIN, has launched the world's smallest compact core drilling machine with right and left rotation, the KBC 36 Magforce, to the UK's metalworking market.
The Magforce has a tiny installation height of 169 mm and a length of 290mm, making it the most compact drill of its kind. It's small size, lightweight design and brushless 1200W high-power motor allows users to operate in smaller and harder-to-reach spaces than ever before, with an unmatched level of efficiency.
The low-wear and long-life tool design features a spindle sleeve feed without clearance and high gearbox positioning, offering the optimum view of the drilling point and facilitating accurate results even in tough positions. Furthermore, the Magforce offers a powerful drilling experience with no compromise on safety. It's integrated tilt sensor and 10,000N magnetic holding force ensure that users can safely complete a huge range of jobs, including vertically and overhead.
With unlimited application possibilities, the Magforce is set to unlock performance benefits for a wide-ranging audience, including those working across structural steel, shipbuilding, vehicle and truck modification, chassis or tanker work and general fabrication and engineering, to name a few examples.
"Versatility is at the heart of the KBC 36 Magforce's design. With forward and reverse running, electronic speed settings and cutting depths of up to 35mm, the Magforce is universal and can be used for any project, big or small," comments Andy Mills, managing director, FEIN UK.
"At FEIN, we spend time with our customers, gaining a deep understanding of how they use our tools and how we could evolve the products further to suit their future needs too. We know that strong performance looks different across the sectors that our users operate in, therefore we are driven to create multi-functional tools to meet these needs, with safety at the forefront of our ideas. The launch of the Magforce has been highly-anticipated within the business, due to its unprecedented dimensions and powerful motor. We are really excited to see the machine in action with our customers, and to explore the new use cases that its size will unlock!" concludes Andy.