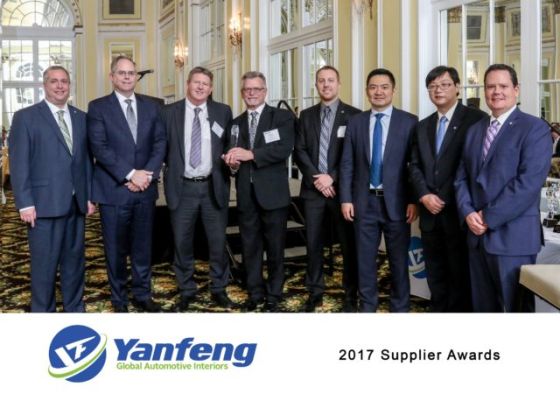 Jonathon Harker
TR Fastenings Inc, the North American TR Fastenings (TR) business, has achieved a Supplier Excellence Service award from leading automotive interiors business Yanfeng Global Automotive Interiors (YFAI). The award was presented at the company's annual North American Supplier Awards event in February this year.
TR was rewarded for its excellent approach to customer service for YFAI, based on the very strong relationship that has been built between the TR team and the YFAI purchasing department, enabling TR to succeed supplier expectations and help YFAI to secure and retain new business contracts. The USA team is supported in terms of manufacturing by its TR colleagues in Taiwan, at the TRSFE plant.
Yanfeng Automotive Interiors is launching a number of new OEM programmes across North America and Europe, and Steve Tindall, the Global Fastener Manager for the region, will be visited the TRSFE plant in April, with a view to instigating the supply of more fastener products to TR Fastenings Inc in the USA.
Steve Tindall commented: "TR Fastenings provides an extremely high level of service to the Yanfeng Automotive Interiors group and can always be relied upon to contribute its considerable expertise to the programmes we operate. As a result of the dedication, quality of work and the assistance the team has provided in terms of us securing new business, we are proud to recognise TR with this supplier excellence award and we are very much looking forward to continuing and expanding our relationship with the team in the future."
Chris Black, Global Director of Automotive Business Development at TR Fastenings, adds: "Our global reach and expertise in automotive fasteners means that we can build successful and lasting relationship with our customers, and we are dedicated to doing this throughout our worldwide operations. To be recognised by Yanfeng Automotive Interiors, with its reputation for excellence and quality is a real honour and is testament to the hard work and commitment shown by our team in the USA and at the plant in Taiwan."
PIC CREDIT: On the Run