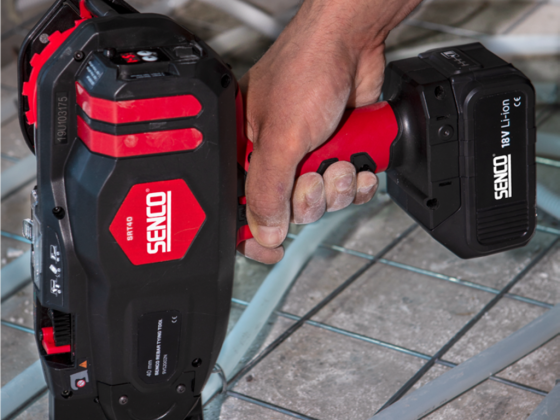 liberty_sheldon
Senco has announced the launch of its SRT40 Rebar Trying Tool, which aims to improve the speed and accuracy of jobs such as tying rebar.
Designed to deal with a variety of fastening requirements, Senco's SRT40 Rebar Tier provides a highly reliable method of ensuring that reinforced structures have a firm mesh grid in place.
Brushless motors ensure faster and efficient tying, with a sealed gearbox giving extra power, attaining an impressive 0.6 – 0.8 seconds per tie. Between 4000 – 5000 tight and uniform ties are achieved per charge thanks to the two supplied 18V 4 Ah Lithium Ion slide in batteries and charger. This means that work can continue uninterrupted, whilst a handy LCD screen allows for wire tension adjustment.
Once in place, the trigger is pulled and the tool automatically feeds the required amount of wire around the rebar rods at great speed, twists it and cuts it to size, securing the rods with a firm wire wrap.
Stephen Dodwell, National Sales Manager at Senco said: 'We have designed the SRT40 Rebar Tying Tool to make tying reinforcement rods a simple task – simply pull the trigger and the tool does the rest. In addition, fitted with highly durable brushless motors, the SRT40 offers not only longer service life but increases the number of bindings per charge by 35% compared to a regular motor. Combining durability, efficiency and simplicity make the SRT40 an on-site essential.'
For more information on the SRT40 Rebar Tying Tool, or any other Senco products, visit www.kyocera-senco.co.uk, email sales@kyocera-senco.co.uk or call 01925 445566
Are you in the fastener, tool, fixing or related industries? You can subscribe to Torque Magazine or sign up to our weekly newsletter.