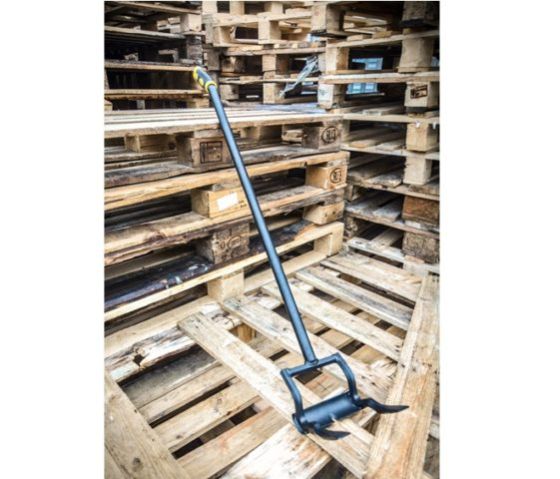 Jonathon Harker
Olympia Tools, distributor of the Roughneck brand of hand tools and workwear, has extended its range with the launch of a new product designed specifically for dismantling wooden pallets.
The aptly named 'Roughneck Pallet Buster' builds on the success of the Roughneck Demolition and Lifting Bar. Like those two products, the new Pallet Buster is constructed using high quality steel and employs a similar long handled design whilst also incorporating a number of additional features which make it especially fit for its application, including an enhanced head-to-handle angle and a greater handle length for ease of operation.
Users can employ the tool stood upright, reducing unnecessary bending of the back and the risk of repetitive strain and other injuries. For further comfort, the handle also benefits from a double injected soft grip.
In addition, the new Roughneck Pallet Buster has increased spacing between its jaws - upped from 85mm to 110mm - which is more effective in breaking widely used Euro (EPAL) pallets. The jaws also feature a specially designed notch which acts as an integrated nail remover.
Olympia Tools Purchasing and Marketing Director said: "Through our Roughneck and other brands, Olympia Tools is an expert in developing and bringing to market innovative tools which help to simplify both general and specialist trade and industry tasks. The launch of our new Roughneck Pallet Buster provides clear evidence of that expertise. It takes an already established and highly regarded tool design and enhances it to deliver significant benefits to those customers across a wide range of sectors who need to dismantle pallets on a regular basis."