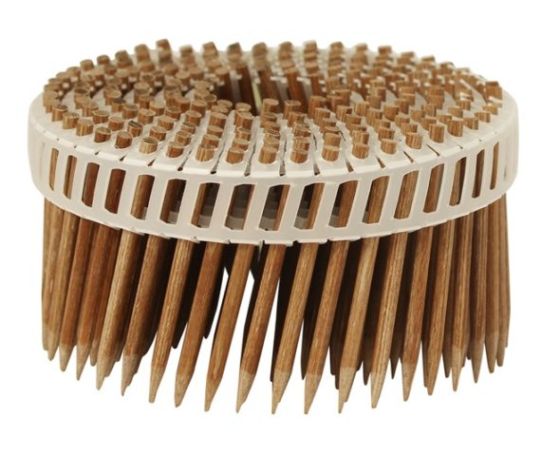 Jonathon Harker
Torque's latest enhanced digital magazine features a focus on collated fasteners, staplers and tools, an excerpt of which is included here.
From wooden collated nails to pneumatic nail guns, we take a look at some of the collated fasteners, staplers and tools options available to the trade.
Beck
As seen at BAU2017 in Munich, BECK LignoLoc is a collated nail made of wood, made from home-grown beech wood and with a tensile strength of 240 N/mm2. Its mechanical properties means the nail can be fired into solid structural timber without drilling pilot holes, using the FASCO LignoLoc pneumatic nail gun.
Read more here.
Astrotech
Astrotech Steels specialises in manufacturing and distribution of specialty fasteners: "We work closely with every customer to create the required specialty fasteners for their specific requirement. Our products ranges are Plastic Strip, Wire Coil, Paper Strip, Bulk Nails, Concrete Nails and collated Drywall screws."
Read more here.
Prebena
The Schotten manufacturer in the field of fastening technology, PREBENA Wilfried Bornemann GmbH & Co. KG, has been manufacturing different staples with ETA approval as a certified building product since August 2016.
Read more here.
You can see the full article and video in Torque's first digital edition of the year, which is full of helpful industry articles, from looks at the abrasives and plasterboard fixings markets, to show reports from the Big 5 Dubai and more. Subscribe to the magazine for free here or take a look here.