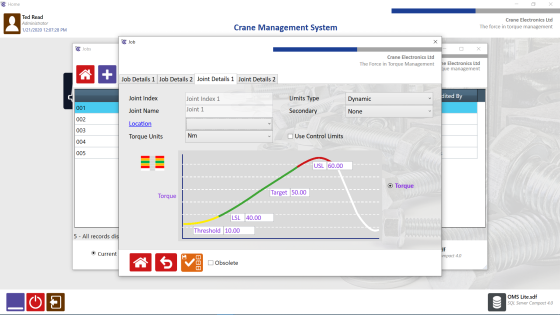 Jonathon Harker
OMS Lite, a new and updated torque management software package from Crane Electronics, is now available, for quality verification, production processes, assembly tool auditing and more.
Crane – which has worked with some of the world's biggest brands in the automotive, aerospace, construction, rail and marine sectors – said the updated software satisfies the manufacturing industry's need for improved quality, improved safety, complete traceability and increased productivity.
Used in conjunction with Crane's existing portfolio of torque measurement products, OMS Lite provides a quality system for periodic sampling of both residual and dynamic torque and angle measurements. With a new and updated interface for faster speed of use, OMS Lite is the most diverse but straightforward software package from Crane Electronics to date, the firm said.
The illustrative, colour-coded data, results and graphs make it simple to visualise and understand critical data for user's processes. Features such as 'Jobs', 'Rounds', torque traces and graphs provide visible data and detailed reports that can be filtered and configured to your needs, making OMS Lite the complete torque and angle measurement auditing package.
There are more details of OMS Lite software at www.crane-electronics.com.
UK enquiries can be directed to us via email at sales@crane-electronics.com or call +44(0)1455 25 14 88 and in the US, you can email salesusa@crane-electronics.com or call us on +1 309 787 1263.