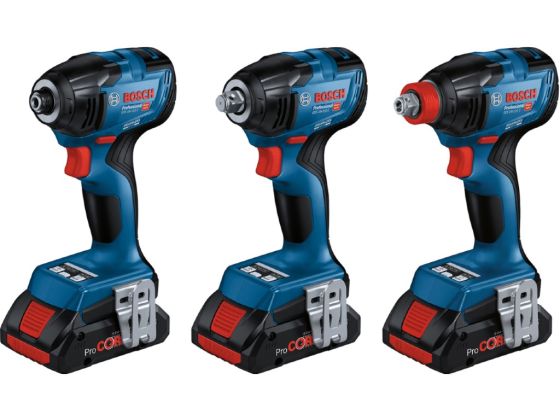 liberty_sheldon
Bosch has announced the launch of three new cordless impact wrenches, to offer tradespeople maximum control and flexibility in processing small to medium-size sheet/metal and wood screws.
The 18 V models differ in terms of their tool holders: The GDR 18V-210 C Professional with its internal hexagon holder is particularly suitable for sheet/wood applications, the GDS 18V-210 C Professional with its external square holder is suitable for metal applications, while the GDX 18V-210 C Professional combines these application areas with its established combination holder.
The impact wrenches have been optimised based on user feedback and now offer, besides high performance, two screw modes which for the first time can be selected directly on the tool's User Interface and further configured with the app. In this way, the cordless impact wrenches prevent damage to screws and surfaces.
Tradespeople are also in full control of the speed during the complete work procedure. They can select three speed settings directly on the tool and adjust the rpm per speed setting using the app. The maximum speed is 3,400 rpm, while the maximum tightening torque is 210 Nm. All three Bosch impact wrenches thus deliver power and speed for demanding and repetitive screwdriving tasks. Furthermore, tradespeople can always see the battery and tool status based on the traffic light principle 'Red, Yellow, Green' thanks to the integrated LED on the tool's User Interface. Additionally, the impact wrenches run on powerful 18 V batteries.
The Bosch connected impact wrenches GDR 18V-210 Professional, GDS 18V-210 C Professional and GDX 18V-210 C Professional are available from January 2022.
Are you in the fastener, tool, fixing or related industries? You can subscribe to Torque Magazine or sign up to our weekly newsletter.