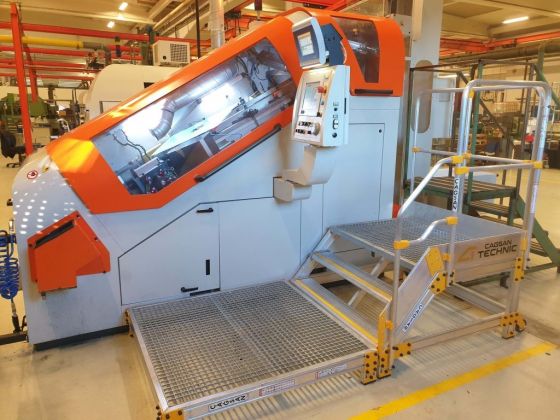 liberty_sheldon
Fastener manufacturer BUMAX has installed three new state-of-the-art machines at its facility in Åshammar in Sweden's steel belt, to enhance its operations and improve productivity.
BUMAX has invested in the latest next-generation machines to ensure it continues to deliver the highest quality fasteners, while further enhancing productivity and safety at its factory in Åshammar.
The multi-million SEK investment consists of two bolt pointing machines and one flat die thread rolling machine. They were installed in October 2020 following approximately a year of planning and preparation.
Anders Sjölund, Manager Service & Maintenance, Project Manager at BUMAX, said: "The machines replace five older semi-manual pointing and thread rolling machines and enable us to produce fasteners even more efficiently and safely."
"Our new machines are highly automated, which means that one operator can manage several machines at the same time," Sjölund added. "They also use direct drives to provide better control of the production process and are capable of producing more fasteners per shift as they are faster."
In addition, the next-generation machines have fewer mechanical parts, which will ensure they require less maintenance and further reduce production downtime at the factory.
They are also an investment in securing quality for the future, and the company's ability to continue to deliver fasteners to customers around the world.
BUMAX will continue to invest in its production with a new thread rolling machine, which will replace two older machines, and be able to produce threaded rods and stud bolts. A pre-study has begun, and the project will commence in 2021.
Are you in the fastener, tool, fixing or related industries? You can subscribe to Torque Magazine or sign up to our weekly newsletter.