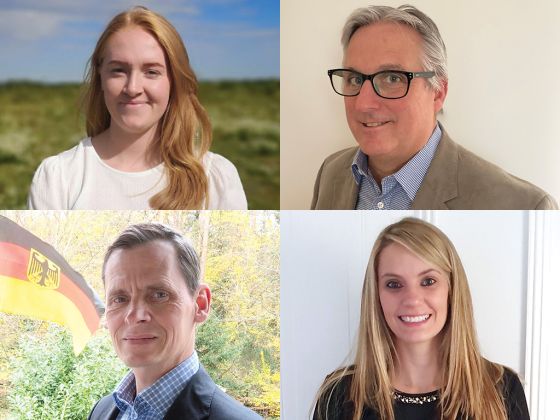 Jonathon Harker
These may be unusual times, but the fastener industry has proved particularly resilient during this pandemic. Indeed, Torque Magazine published one of its largest issues yet in autumn 2020. With 2021 now well underway, Torque Magazine explains its plans for the next 12 months…
Torque Magazine is even more international than ever in 2021, making a permanent step into mainland Europe as International Sales Manager Harry Whyte relocates to Germany and West Virginian native Tom Keenan, Sales Manager for North America, focuses across the Atlantic.
Known to many in the international fastener industry, Harry Whyte is already set up in Germany: "After 20 great years in the UK, I am excited to be based in Germany, in order to serve my clients in Europe more effectively," said Whyte. "It also means that Torque is prepared if there are any 'Brexit hurdles' as we've got facilities on both sides of the Channel."
Meanwhile, Tom Keenan is heading Torque Magazine's work across the pond: "I am honoured and excited to be covering the North American market for Torque
print/digital magazine. I was born in Jacksonville, Florida, grew up in West Virginia "Let's Go Mountaineers!" and prior to moving to the UK, I spent 10 wonderful years living and working in Atlanta, Georgia. While based here in the UK, I have continued to work with both the North American and International companies within the publications/events sectors, covering emerging technologies, textiles and distribution.
"I am excited to be bringing my skills to Torque International. We will be having some exciting features that will be of interest to my fellow American clients, including a special territory focus on North America, a focus on women in fasteners in North America and highlighting industry rising stars, while promoting our digital capabilities to capture the growth of your millennial customers!"
EVOLVING WITH THE INDUSTRY >
Torque Magazine is continuing its now well‐established blend of print and digital media to reflect the changing industry. This balance has been tweaked in 2021 following the fastener industry's renewed appetite for print magazines.
Off the back of one of its largest print issues in five years, Torque Magazine has switched to six print magazines a year, starting 2021, while retaining four of the
enhanced digital issues, the latter offering a more interactive experience for readers with picture galleries, videos, direct links to webshops and guides, and more. The email newsletter will continue to deliver essential news and opinions for the fastener industry once a week.
YOUTH FOCUS >
Football pundit Alan Hansen famously said you can't win anything with kids, only to be proven spectacularly wrong as Manchester United went on to have one of modern football's biggest winning streaks (with a team averaging a sprightly age of 26 years).
Torque Magazine has opted for conventional wisdom by mixing youth with experience, including some of the most seasoned fastener publishing and events executives in (possibly) the world, all the way through to fresh‐out‐of‐university journalistic talent in newest recruit Liberty Sheldon. 2021 will see, however, a
greater focus on the younger generation of fastener executives by Torque Magazine. This will take the form of regular interviews with apprentices in the fastener industry and a special look at rising stars in the sector, as well as other initiatives targeting the younger generation of fastener and tool industry executives.
With an emphasis on digital as well as print, Torque Magazine is well placed to keep connecting these different parts of the industry.
SHOW BUSINESS >
In the past 12 months, getting face‐to‐face with customers in the fastener industry has been harder than ever. With demand for a return to selling at shows hitting new highs, Torque‐Expo is stepping in.
Claire Warman, UK Sales Manager for Torque‐Expo & Torque Magazine, explains: "Whilst Torque is taking further steps in the international market, we still maintain a strong presence in the UK now more than ever, and we are excited to be bringing Torque‐Expo back in the autumn. It's been a strange year, we have missed that face‐to‐face contact with our loyal clients and very much looking forward to seeing you all again soon."
Torque Magazine Editor Jonathon Harker adds: "Like everyone in the fastener and tool industries, we've adjusted to new working practices and it's just as important that we continue to evolve and innovate into 2021. We've got plenty of new ideas – like our recently launched Guest Editor initiative – so watch this space!"
Publisher Jerry Ramsdale concludes: "We like to think that we offer something a bit different, for the International fastener and tool industry, with leading edge ideas in our publications and with new ideas in the exhibitions we organise.
"Since launching Torque Magazine in June 2015 we have come a long way, my thanks to our team, our contributors, advertisers and readers from around the world who like what we do."
GET IN TOUCH WITH THE TEAM >
Harry.whyte@torque-expo.com
Tom@torque-expo.com
Claire@torque-expo.co.uk
Jonathon@torque-expo.com
Libby@torque-expo.com
Jerry@torque-expo.com
Find out more at www.torque-expo.com/about-us