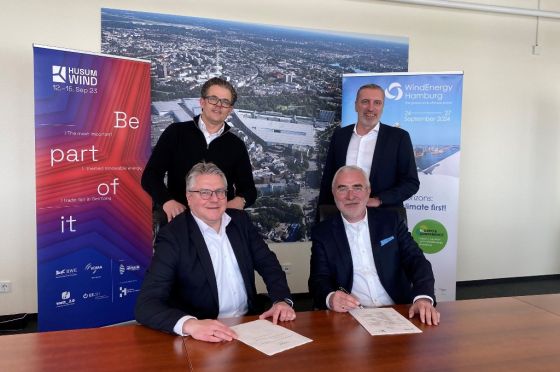 The partnership agreement between Hamburg Messe und Congress GmbH and Messe Husum und Congress GmbH & Co. KG governing the organisation of the two wind energy trade fairs, in place since 2014, has been updated and extended until December 2029. As in the past, WindEnergy Hamburg will take place in even years, and HUSUM WIND in odd years.
"We are looking back on a successful partnership and are pleased to carry it into the future. Germany is a major business hub, and our continued partnership will safeguard its leading position in the onshore and offshore wind energy sector. As before, the two industry fairs will differ in concept to offer the wind energy industry a comprehensive and unique combination of events," emphasised Bernd Aufderheide, President and CEO, Hamburg Messe und Congress, and Michael Lohmann, CEO of Messe Husum und Congress, when signing the new agreement in Hamburg.
The two trade fairs will continue to serve the wind energy sector featuring different concepts – WindEnergy Hamburg as the international flagship fair catering for the global market, and HUSUM WIND as an event focused on the German-speaking countries. Both trade fairs will be organised independently at their traditional venues and supported by a joint advisory council.
The next events are scheduled as follows:
HUSUM WIND – Transforming Energy 12-15 September 2023
WindEnergy Hamburg from 24-27 September 2024
https://www.windenergyhamburg.com/en/