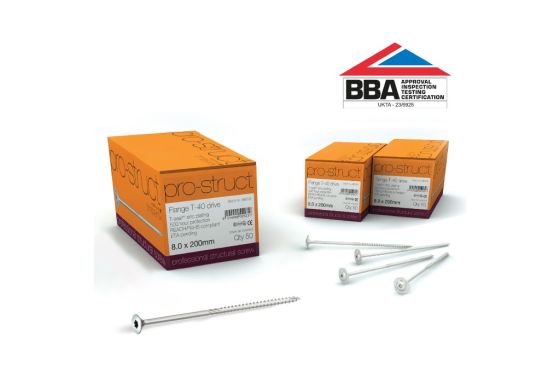 Aptus, the specialist supplier of fixings and fastenings to the construction industry, has secured UK Technical Assessment (UKTA) certification for its pro-struct® structural timber screws.
The approval follows an in-depth assessment conducted by the British Board of Agrement (BBA). It certifies that the entire pro-struct® range complies with the requirements set out for screws by European Assessment Document (EAD) 130118-01-060.
To ensure they can offer a working life of 50 years when used in timber construction applications such as forming connections or securing insulation to rafters, Aptus pro-struct® screws employ a number of innovative features.
Specifically, they are manufactured from a specialised grade of steel which is combined with an advanced heat treatment process. This enables pro-struct® screws to accommodate the natural movements of the timber without shearing.
pro-struct® screws also benefit from cutting-edge thread geometry for a quicker drive and better pull-out resistance, as well as a larger diameter head, which improves resistance to head pull-through. In addition, they have a zinc plated coating which has been salt spray tested to 500hrs ensuring compliance with service class 2 of Eurocode 5.
pro-struct® structural timber screws are currently available in a variety of lengths up to 300mm with a 400mm option due to be launched imminently. These longer sizes make pro-struct® screws ideally suited to the growing challenge of fixing through increasingly thicker insulation as demanded by continually evolving Building Regulations.
Like all Aptus products, pro-struct® structural timber screws are available ex-stock from the company's UK warehouse, are backed by UK-based technical support and have been developed specifically for the UK market.
Reflecting this, the gauges available include 6mm. This gauge of screw is more suited to the narrower joist sizes employed in the UK compared to 8mm diameter screws which are typically designed for the larger joists used across continental Europe.
Commenting on the UKTA certification, Winston Kilburn, Commercial Sales Manager at Aptus, said: "The specialist challenges involved in structural timber fixing applications often warrants an equally specialist solution. Despite this, many screws and fasteners are marketed as being designed for this purpose with little to no substance behind those claims.
"As a business that's committed to being a trusted fastener partner, Aptus wanted to give our customers verifiable proof that our pro-struct products are structural timber screws in name – and in nature. UKTA does precisely that and we're delighted to have received this widely recognised and respected certification."