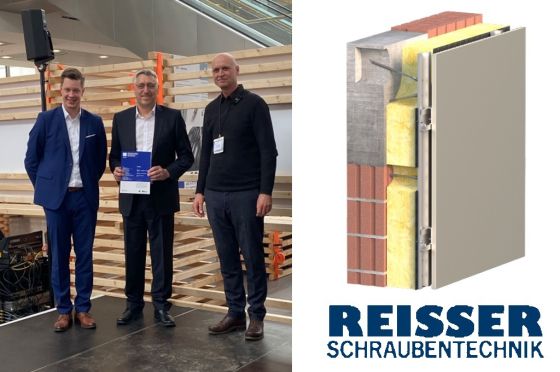 REISSER-Schraubentechnik GmbH has received a Special Mention for its RDS system at the Innovation Achitecture+ Building awards at the BAU fair in Munich. The RDS system offers a new fastener for a simple, economical and virtually thermal-bridge-free installation of rear ventilated facades.
The Innovation Award is intended for manufacturers of innovative products and materials for the complete contract, industrial building segment and for residential construction, as well as for architects, interior designers and designers who work in these areas and have developed associated products. Participation was open to all exhibitors at the BAU who have registered their products for the Innovation Award Architecture+ Building.
The award is designed to honour products that correspond to the requirements of architects to a special degree. The prize recognises conceptual project-specific solutions and selected products, which satisfy in design and functionality. This year a total of 71 companies with 100 products participated. Four Innovation Awards, six Special Mentions and eleven Mentions were awarded. REISSER were very proud of their performance and the receipt of the "Special Mention" award for the REISSER RDS Spacer Screw.
The REISSER spacer screw RDS lets you mount rear ventilated facades quickly and easily in an economic and sustainable way on concrete and masonry. It has a general technical approval and can be used both in new buildings and for the renovation of existing buildings.
Unlike conventional screws, the REISSER spacer screw RDS has two different threads on the head and tip. The profile to be fastened (wood or aluminium) is kept at a distance by the head thread. The anchor thread in combination with the plastic frame anchor fixes the system into the exterior wall. The latter is resilient to tension and compression.
The REISSER spacer screw RDS is fully compatible with all commercially available compression-resistant or compression-soft insulation materials and profiles. As REISSER spacer screws RDS are invisibly installed and no longer accessible after installation, the fastener must be made of stainless steel (A4) as required by the directive for rear ventilated facades. The low thermal conductivity of this material also results in an almost thermal bridge-free fastening as a positive effect.
The reduction of the total number of work steps required for assembly (as the processing time is reduced by up to 50%) also leads to higher cost efficiency.
The A4 spacer screw connection system is compliant with fire protection requirements and is therefore safe for rear ventilated facades. And finally, the complete deconstructability of this system screw guarantees the 100% recyclability of the materials and therefore the sustainability of the product.
Unfortunately, REISSER did not win the "Innovation Award" but they are looking forward to developing the best products to make the lives of users easier!
https://www.reisser-screws.com/en/news/d/vorgehaengte-hinterluef-tete-fassade