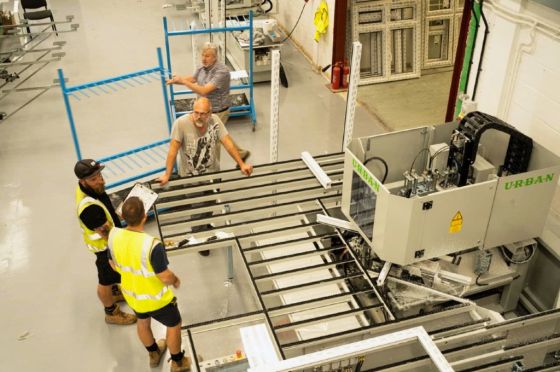 Fastener specialist Rapierstar has linked up with Carl F Groupco and Eurocell to establish Newframe – a window and door manufacturing company based at a modern 15,000 sq foot premises in Worthing, Sussex.
More than £1m has been spent upgrading machines, tech and premises to help service the demand for private new build houses and aviation noise contracts. Initial production targets are around 500 units per week, with a view to raising the quality bar for clients throughout Sussex and the South in the future.
Rapierstar's contribution to the enterprise focused on its fastener expertise to deliver higher quality fastenings that will be safer, have a longer service life and speed up accurate production. Newframe hopes that end users of all kinds will have the best advice on using the various different fittings as a result.
This advice is clarified in a series of detailed operating procedure sheets that staff can refer to when manufacturing, using all the different profiles provided by Eurocell.
The group hopes to take advantage of the growth of the market in the South East to establish Newframe as a commercially ethical, family based company using British-made materials.
Mark White, Production Director, acknowledges the support of the supply partners and the expectation is that it will result in shorter manufacturing lead times, fewer transport miles and better control of customer orders and contracts. He also said that highest quality components have been built in from the start. Andrew Price, Groupco's Area Sales Manager mentioned Yale hardware and Siegenia tilt and turn gearing as examples of the high quality components that are best served by the fixings recommend by Paul Balfe (Technical Consultant at Rapierstar.)
The new factory has already created 15 new jobs and is looking to be a sound employer for local people. High profile clients like Heathrow Airport, Network Rail and national and local housebuilders should ensure a steady stream of work.
Paul Balfe said he would be delighted if companies invited Rapierstar  to provide detailed technical assistance and collaboration to solve fixing dilemmas. By working with fixings and hardware manufacturers in the UK and Ireland, Rapierstar can ensure the best choices of fixings. The Fastener Health Check for example involves a full factory audit to identify optimisation of fixings and stockholding that could result in financial savings and greater efficiency.