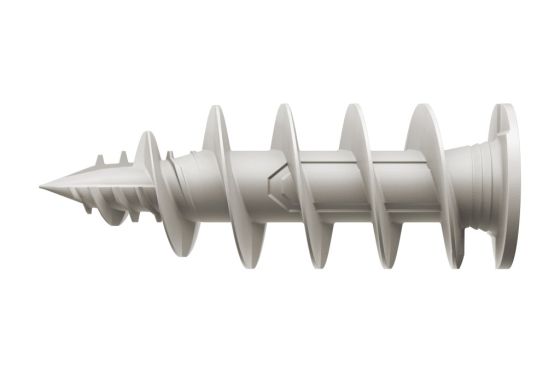 External walls with external thermal insulation composite systems (ETICS) provide buildings with added energy efficiency to the benefit of people and the environment. With fischer's new FID II and FID II Plus insulation fixings, lightweight to medium fixtures can be directly fastened in the insulation without a thermal bridge.
Parcel boxes, charging points for electric vehicles, satellite dishes or window shutter holders – FID II Plus provides a plus point in load-bearing capacity through its ideal combination with a chemical additive component. Combined with the insulation fixings, fischer's Fill&Fix liquid plug or fischer PU foam increase load values by up to 100%. The chemical component is injected into the screw opening, connecting with the insulation through the plug's openings. The fischer FID II insulation fixing, another new addition to fischer's range, is ideal for fastening lightweight fixtures such as external lighting, motion sensors, house numbers or doorbells to ETICS.
Both plugs can be used in ETICS with all kinds of common insulation types and superstructures such as mineral wool, expanded and extruded polystyrene (EPS/XPS), wood fibre and polyurethane rigid foam (PU).
Thanks to the combined centring, milling, and cutting function of the plug tip, the plugs can be screwed in with precision before providing a flush fit in the insulation without damaging the surface. The process requires minimal effort.
Using conventional screws with diameters of 4.5 to 6mm (FID II Plus) or 3.5 to 4.5mm (FID II) enables flexible processing. Thanks to their special tip geometry, the plugs can be screwed into plaster with strengths of up to 10mm without pre-drilling, so that this step can be omitted, making the process simpler and faster. Pre-drilling is recommended when working with thicker plaster layers. The insulation fixings can be installed into ETICS with speed and ease using a standard cordless screwdriver. Their TX 40 bit adapter provides a powerful drive. When using the FID II Plus as a system together with fischer Fill&Fix or fischer PU foam, the curing time of the chemical component must be observed before the screw can be installed. Following the pre-positioned installation, the plugs can be additionally sealed with a sealing compound, protecting the fastening point against moisture. The special geometry beneath the head of the plugs provides a clean setting result.
With its low head diameter, the FID II also provides an optimised appearance, meaning the plug rim is not visible even when installing slim fixtures, ensuring a perfectly concealed and flush fastening. Made of glass-fibre reinforced plastic, the new products ensure maximum stability in ETICS, including pressure-resistant insulation materials such as wood fibre.