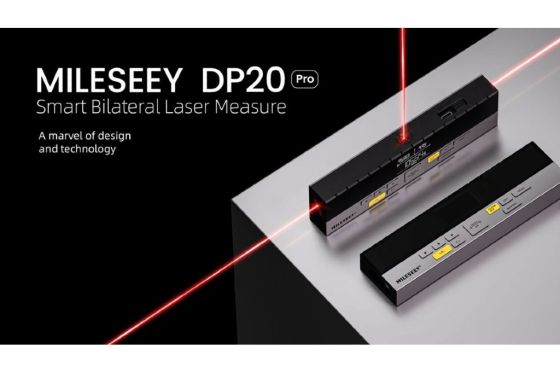 Mileseey, a laser measure manufacturer, has launched the DP20 Pro bilateral laser distance meter. The innovative measuring device emits laser beams in two opposite directions and captures distance from any position along the measurement line, leaving behind the days of wall searching.  
The DP20 Pro captures three distances at once with a button click - the left, right and total, providing three times the efficiency of a tape measure. While the DP20 Pro is bilateral by default, it can be easily switched to a single direction. Tilting a light beam onto the wall, the DP20 Pro indirectly calculates the horizontal distance and the vertical height by measuring the tilted segment, making measurement a breeze in cluttered space where obstacles hinder movements.
The DP20 Pro is a compact, high-performance tool with a sleek aircraft-grade Mg-Al housing based on integrated moulding, the DP20 Pro features a smooth and uniform appearance. At the core of DP20 Pro is the revolutionary integrated coaxial optics technology that ensures 100% two-way beam alignment, boosting a bilateral accuracy up to 1/16". The DP20 Pro is a tool for designers, architects, engineers and DIY enthusiasts to unleash their limitless creativity.