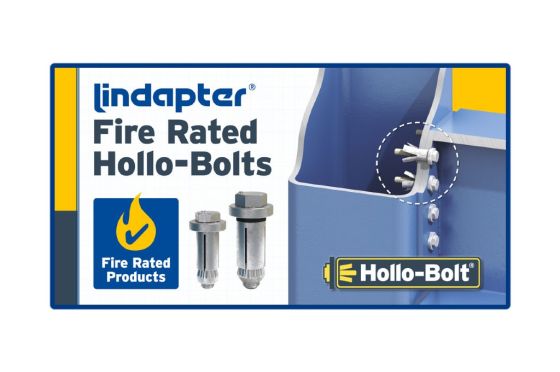 Lindapter Hollo-Bolts are now independently Fire Rated for up to 120 minutes after being tested by the Building Research Establishment (BRE).
Lindapter's Hollo-Bolt Hexagonal Head is an expansion bolt that only requires access from one side of the Structural Hollow Section (SHS). They offer a faster alternative to welding or through-bolting, enabling contractors to reduce construction time and labour costs. Installation is quickly carried out by inserting into pre-drilled steelwork and tightening with a torque wrench. Also suitable for blind connections where access is available from one side only.
The carbon steel, hexagonal head Hollo-Bolts have been independently fire tested under tensile and shear loading with simultaneous exposure to standard fire conditions in accordance with ISO 834/ASTM E-119 for 120 minutes.