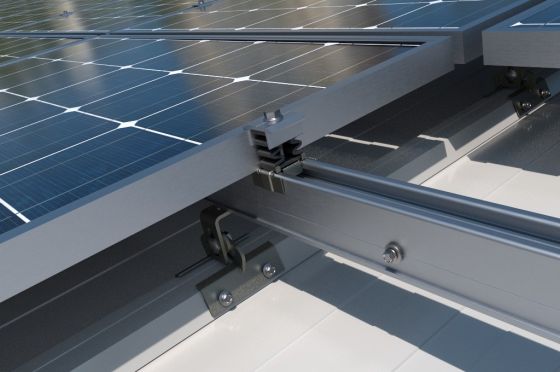 INDEX® A Perfect Fixing, manufacturer and industrial supplier of fixing systems with more than 30 years' experience, offers a complete, quality solution for all types of rooftop photovoltaic installations in quality EN AW 6063 T6 Aluminium and Atlantis C4-M-coated steel.
INDEX® A Perfect Fixing opts for pre-assembled systems and its own profiles, designed to facilitate assembly and maintenance tasks, with new designs aimed at improving performance and reliability.
- Looking to the future
The incorporation of this new range focused on the renewables sector is an example of INDEX®'s commitment to continuous improvement and innovation. The development of this new solution has been a challenging research and innovation project that led to the incorporation of cutting-edge technologies in materials/coatings and the need to design new profiles and assembly systems to deliver innovations to today's market.
- Technical support
The company provides comprehensive advice regarding the different systems, their suitability for the installation location, custom calculations and component breakdowns.
- Products adapted to small users
Understanding the needs of all its users, INDEX® has developed products that are suitable for small users to offer the best service.
- Training
The technical department provides personalised training for customers with the goal of showing the correct use of all the possibilities and features of each of its items.
- Certified, environmentally-friendly production in Spain
A large proportion of the products included in the new range is produced in Spain, which is necessary to guarantee the high levels of quality and innovation required. The company works with cutting-edge suppliers in their respective sectors that adhere to the highest certification standards established by European legislation.
Solar Kits. More cost-effective, less waste
The manufacturer offers customers kits for two or three panels for the different types of installation (coplanar and triangular). These kits contain everything needed to install the panels, eliminating unnecessary products and therefore saving money and avoiding waste.
With the kit calculator on the website, the desired number of panels can be selected and it will automatically calculate the basic kit and extensions required to perform the installation.
Engineering and technical support service
The company provides its customers with technical support for the design and calculation of fixings, site visits and technical training. In addition, the YouTube channel features installation tutorials for the different systems available.