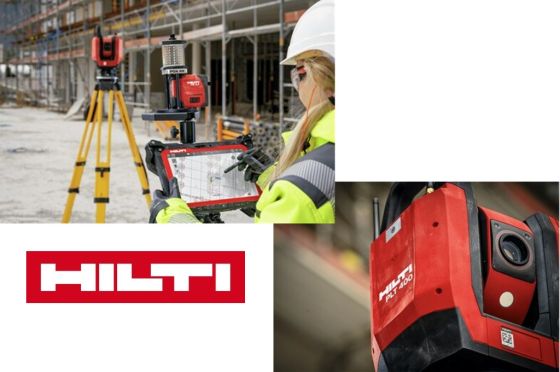 Hilti North America, a global leader providing innovative tools, technology, software, and services to the commercial construction industry, introduces the PLT 400, a digital layout tool designed to help jobsite layout crews be more productive.
With continued labour shortages and jobsite restrictions, single operator tools like the PLT 400 are essential. Hilti's PLT tool technology allows layout to be completed more quickly, efficiently, and accurately. This tool also brings improved accuracy, faster layout speed, advanced prism tracking, auto calibration, and requires minimal training to use. The benefits of improved technology, fewer labour hours, and faster layout all combine to create a cost-saving and productivity increasing solution for jobsites.
The PLT 400 can take BIM (Building Information Modelling) designed digital plans and lay them out, without the time consuming need to create points on the plans first. It can also be used during the building process to help keep the BIM model up to date, contributing to a highly efficient end-to-end workflow. Hilti's digital construction software is also compatible with Revit, AutoCAD, and other professional layout platforms.
"We took customer feedback on our previous total stations and addressed those pain points with the launch of the PLT 400," said Michael Haugtvedt, Product Manager for measuring. "This camera-based tool has enhanced prism tracking and upgraded communications making sure you stay connected and increase layout productivity on the jobsite, while a built-in calibration module helps ensure your layout is within spec every time you turn the tool on."
The PLT 400 will be available later this month throughout the U.S. and Canada.