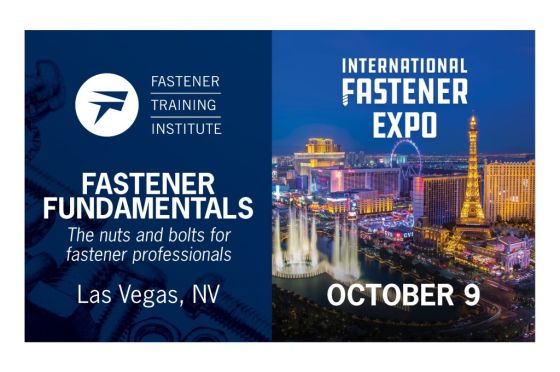 Fastener Training Institute (FTI) is partnering with International Fastener Expo (IFE) and hosting a day-long fastener training class on Monday, October 9 while IFE runs from October 9-11 in Las Vegas, Nevada.
Fastener Fundamentals - The Nuts and Bolts for Fastener Professionals, will be instructed by Carmen Vertullo, Fastener Consultant and Trainer of Carver Labs. He will teach the basics of fasteners and beyond to industry professionals including the best of Fastener Training Institute's Fastener Basic Training and Certified Specialist Training programs.
"This is an incredible opportunity for those attending IFE. Carmen is a highly sought-after instructor who brings years of fastener experience and an eagerness to share knowledge with others," said Jo Morris, Marketing Director for FTI. 
This class is full of topics and must-knows for every fastener professional and is interactive with learning exercises, case studies and valuable take-home resources. Topics will include types and applications of various threaded and non-threaded fasteners, fastener standards organisations, fastener technical libraries, basics of fastener materials, platings, coatings and corrosion prevention for fasteners. Attendees will learn what fastener suppliers can do to add value, reduce risk, increase profits, and more. 
Early-bird registration is available until October 7 before the price increases. Learn more and register.