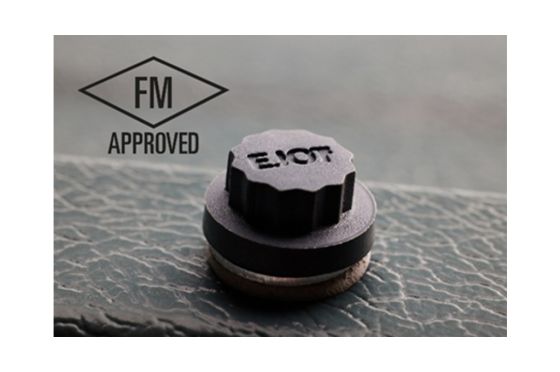 EJOT has secured FM approval for all the most widely used products in its Colorfast range of colour-matched self-drilling fasteners, providing specifiers and contractors with another independently verified 'stamp of approval' for the suitability of the range's key products when used for fixing sandwich panels, or built-up envelope systems designed to the same standard.
It is a development that provides additional assurance when specifying screws for coloured roofing and façade sheets. Whilst Colorfast's original metal parent product has long been FM Approved, this latest approval classifies the products in their own right.
The third party certification by FM Approvals, a division of American property insurance giant FM Global, confirms EJOT's stated performance capabilities for the fasteners in line with the stringent requirements of an international standard that applies to fully tested systems. Under the scheme, every element of the building envelope's proposed construction is assessed down to the smallest fasteners, which is why it represents the 'gold standard' for approvals.
As a result, the standard is unambiguous in terms of which fasteners can be used in order to deliver an approved roof or façade. Where FM approval is a prerequisite on a building envelope project, an FM appointed engineer will make thorough checks to ensure the correct fasteners are being used – from checking approval verifications through to demanding an FM Approved logo on boxes or labelling.
Securing approval, however, is not only subject to successfully demonstrating the product's performance in testing. The assessment process examines – through annual auditing – how the product is manufactured, the quality of production systems and facilities, and what quality control procedures are in place to maintain consistency, as well as the marking procedures used for identification.
Importantly, achieving the FM Approved mark for Colorfast screws supports EJOT UK's rapidly increasing export market. Whilst it may not be widely sought currently by clients in the UK, FM Approvals certification is widely recognised and routinely required by specifiers and building inspectors in other countries, including the US, Australia and the south-east Asia.
It also represents the latest stage in EJOT UK's continuous development programme for Colorfast, which means the fastener continues to raise the bar after more than 30 years in the market. Now onto its third generation, Colorfast still outperforms other types of colour-matched screws thanks to its over-moulded nylon head design and the high quality of both the washers and screws, which are available in carbon steel and stainless steel for enhanced corrosion resistance.
Brian Mack, Technical Business Development Manager at EJOT UK said: "Securing the FM Approved mark for key products in the Colorfast range is another important stage in the development of this roofing and cladding mainstay, and one that gives additional assurance to the market in respect of its performance capabilities in application.
"It is part of our continuous programme to provide customers with the required test evidence and certification they need to make the right choices for the building envelope fastener, whether that's in the form of FM, ETAs (European Technical Assessments), CE marking or other approvals."
EJOT Colorfast has become the go-to solution for roofing and cladding installations where the head of the screws needs to be matched to the panels it is securing to optimise aesthetics.
Superior durability is achieved through the design and manufacturing process used to over-mould a nylon head, which is extremely UV-stable and can be matched to almost 400 colours in line with recognised colour matching systems.
These include all recognised colour matching systems such as RAL, NCS and Pantone, as well as the British Standards (BS) colour palette, the colour system on which Colorfast was first developed.
Find out more at https://www.ejot.co.uk/Colorfast_FM_Approval.