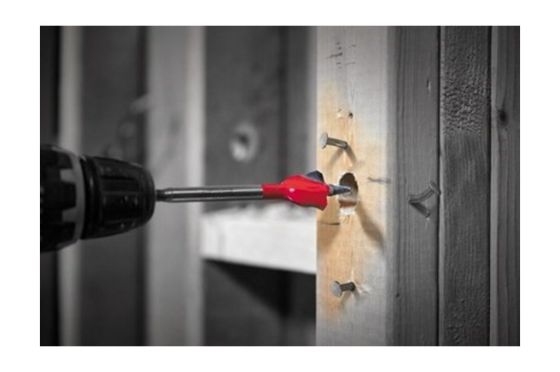 Diablo Tools, which offers a solution-oriented range of products for the professional user, has announced its new Demo Demon™ Spade Bit, specifically designed to cut through nail-embedded wood and clean wood. These ultimate spade bits offer ultra-sharp DEMO-Edge™ cutting edge design and Dura-Tip™ technology for extreme durability and effortless cuts.
Traditional spade bits often break when they face common encounters on the job site, increasing time, money, and frustration. During remodels, renovations and rough installations, contractors are faced with many unknowns when drilling through closed walls such as wood, nails, and debris, all of which are the nemesis of a traditional spade bit. When this happens, professionals either burn through an extensive number of spade bits or must also carry an auger bit to change out to when a nail is found. Either way, professionals are spending more time and money on additional tools and bits.
The Demo Demon™ Spade Bit provides an exclusive, innovative design, focused on speed, durability and life that provides the ultimate hole drilling experience. With its ultra-sharp DEMO-Edge™ cutting edge design, the Demo Demon™ Spade Bit delivers extreme durability to withstand nail hits while effortlessly pulling the bit through wood. This new range provides industry changing technology compared to traditional spade bits by featuring the speed and price of a traditional spade bit, but the power and durability of an auger bit to withstand nail hits. Designed for speed, durability and life, these new spade bits deliver up to 60X longer life of standard spade bits, saving the professional time and money.
"Diablo continues to disrupt the market by providing unmatched product performance," said Russell Kohl, President and CEO of Diablo/Freud Tools. "With continued investment into innovative technologies, we have been able to develop a one-of-a-kind solution for cutting, or drilling, through nails that has never been seen before. Professional users can now drill through a nail effortlessly, without breaking the spade, and experience a fast, light, and smooth cut. That has been unheard of until now. The speed and control it offers is a game changer for the industry and gives the professional what they want and need. It provides the tradesman with an ultimate hole drilling solution that saves them time and money."
The Demo Demon™ Spade Bit is available in various sizes: 1/2", 5/8", 3/4", 7/8", 1", 1-1/8" and 1-1/4".