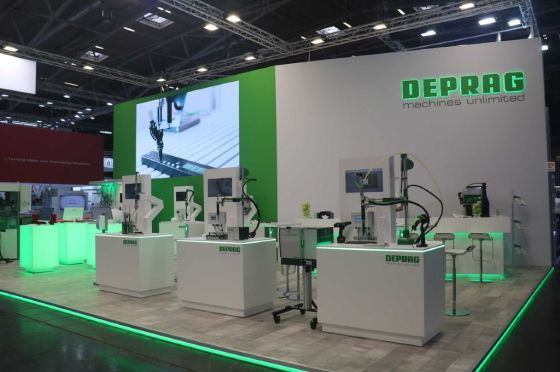 Around 41,000 visitors attended the Automatica event in Munich at the end of June, where the entire supply chain of industrial automation was represented at the trade fair. The platform staged a programme for visitors covering the themes of digitalisation and AI, sustainable production and the future of work.
Screwdriving technology and automation specialists DEPRAG presented a range of product innovations, with particular focus on applications from screwdriving technology and automation in combination with robotics. The motto "#screwbotics – automation excellence by DEPRAG" underlines their expertise in this future-oriented sector. Light, flexible and smart products, ready for connection to lightweight robots and cobots.
The DEPRAG Screwdriver Function Module was on display. As well as standard versions, the range includes the E-SFM (screwdriver function module with electronic stroke). It provides maximum flexibility in the light of complex screwdriving tasks, new fasteners and changing assembly requirements. The collection also includes a DEPRAG isolation concept which is equipped with special ceramic and synthetic parts to protect against voltages up to 1000 Volt. The product is therefore suited for use in the field of e-mobility, such as battery assembly.
The new generation DEPRAG Feed Module (DFM) is another product which can easily be connected to lightweight robots. Now smaller, lighter and smarter, it is best suited for automated screwdriving applications. A further impressive feature is added when used in combination with DEPRAG Tool Changer. The automatic changing of any number of screwdriving tools means that the Tool Changer provides maximum flexibility regardless of the type of fastener drive used. The use of one single spindle guarantees that operating costs are quickly amortised.
Thanks to their ease of integration, DEPRAG components are improving production sequences and supporting customers in mastering the challenges of modern manufacturing. "For us, the Automatica trade fair was an excellent opportunity to introduce the international public to our latest breakthroughs," said Robert Bachmeier, DEPRAG Sales Manager. "We are proud to provide pioneering solutions in the field of automated assembly and feeding technology and to thereby support our customers in the optimisation of their production processes."Formularbeginn
Formularende