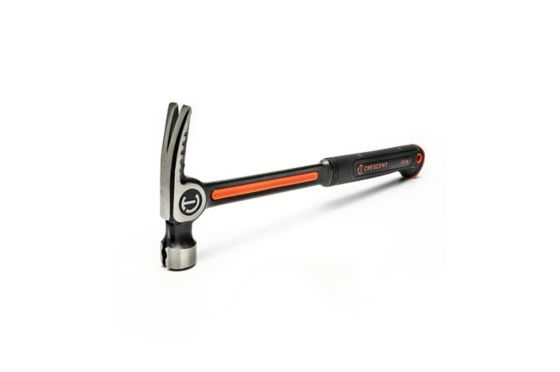 People working in the trades swing hammers hundreds of times a week, which can cause long-term side effects and decrease overall productivity on the jobsite. That is why Crescent Tools created VibeGuard™, a revolutionary vibration-reducing technology for their new line of high-quality hammers.
These hammers were designed for real world applications to increase productivity, survive tough conditions, and protect users from the side effects of long-term use. "Fatigue from using non-vibration resistant hammers is the top issue professionals see on jobsites with their current hammers," notes Ethan Bolderson, Product Manager, Crescent Tools. "No matter what type of trade you work in, a hammer is one of the most common tools in your bag."
From general purpose and framing to specialty, the new line has a hammer for every purpose. The range is made of top-of-the-line, proprietary materials, with unique features including a larger strike face and textured grips. The new VibeGuard™ technology reduces vibrations by 70% and the optimised strike face provides a 15% larger sweet spot to prevent missed hits. With additional features like the textured fawns foot grip and a Permabond Handle Connection on the fiberglass hammers, the new line of Crescent hammers were made with comfort, productivity, and consistent heavy-duty use in mind.
The hammer line covers over ten categories, including Steel General Purpose Hammers, Steel Framing Hammers, Steel Demo Hammers, Fibreglass General Purpose Hammers, Wood Framing Hammers, Axes and Hatchets, Steel Brick Hammers, Fibreglass Blacksmith Hammers, Fibreglass Engineer Hammers, Fibreglass Drilling Hammer, Wood Ball Peen Hammers and Specialty Hammers.