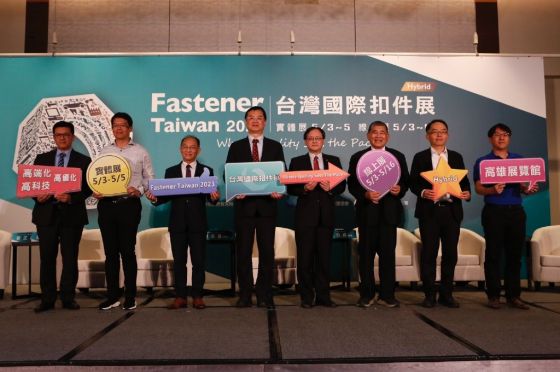 The Taiwan International Fastener Show (Fastener Taiwan) is being organised by the Bureau of Foreign Trade, Ministry of Economic Affairs, and co-implemented by the Taiwan External Trade Development Council (TAITRA) and the Taiwan Industrial Fasteners Institute. It will be held at the Kaohsiung Exhibition Center from May 3-5, 2023. The exhibition will host 283 exhibitors, occupying 835 booths.
The exhibition will focus on the three major features of Taiwan's fastener products: high-end, high-tech and high-value with well-known domestic and foreign industry players gathering together. This includes the new exhibition area Materials, Moulds, Tools area, with exhibitors such as New Best Wire, Wu Jii, and Swiss Steel; the Nuts, Bolts, and Screws area with exhibitors such as Zyh Yin, Pro Power, Taiwan Steel Group, Sheh Fung Screws, and Lu Chu Shin Yee; the Machinery & Manufacturing area with exhibitors such as Jern Yao, Chum Yuan, Tycoons Group, and the Italian company Sacma. The exhibits encompass the fastener industry's entire supply chain, interlinking the fastener industry ecosystem.
Fastener Taiwan 2023 will feature additional peripheral events including an online exhibition, industry forums, procurement meetings, guided tours, and ManufacturersWin Podcast. The Global Fastener Industry Forum will be held on the exhibition's first day and will bring together presidents of fastener distributor associations and industry leaders from the USA, Italy, and Germany, as well as experts from related fields to share their insights on the future outlook of the global fastener market, Net Zero Emissions, smart manufacturing, fastener applications in electric vehicles, medical devices, aerospace, and other hot topics, providing attendees with an overview of international trends throughout the fastener industry.
The three-day exhibition is expected to attract over 10,000 domestic and foreign companies and professionals to participate, making it one of the most influential international events in the global fastener industry. With its diverse exhibition content, the event will offer new and exciting exhibition experiences for all exhibitors and industry professionals, creating new opportunities and momentum for the development of Taiwan's fastener industry. The physical exhibition will run May 3-5 while the online exhibition will continue until May 16.
For the latest news and event details, please visit the official website www.fastenertaiwan.com.tw  Related industry personnel are welcome to pre-register for attendance.