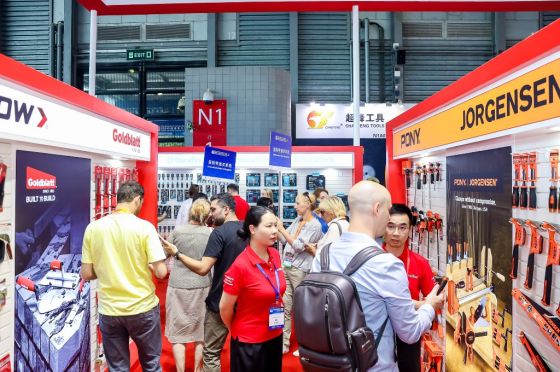 China's hardware industry is getting much-needed boost with the success of the China International Hardware Show (CIHS) from 19-21 September 2023 in Shanghai. After experiencing the waves of the global economy affecting numerous industries around the world, this year's show received an overwhelming response from the industry for its 20th anniversary.
As one of the most influential and professional annual hardware events in the global market, organised by China National Hardware Association and Koelnmesse Co., Ltd., CIHS 2023, in conjunction with its concurrent exhibitions "China International Building Hardware & Fasteners Show 2023" and "China International Locks & Security Doors Show 2023", covered over 120,000 square metres, featuring a wide range of products including tools, DIY & building hardware, lock, work safety & accessories as well as processing equipment and garden tools.
A total of 2,623 exhibitors from 27 countries and regions brought tens of thousands of brands and products to showcase and to take advantage of the great business opportunities. The fair warmly received 68,405 visitors from 97 countries and regions worldwide during the three-day period, among which, the international trade buyers accounted for 7.7%.
Supported by Koelnmesse's international hardware trade fairs, as well as embassies, consulates and trade associations worldwide, CIHS 2023 welcomed the encouraging re-entry of international participants, especially from Germany, the United States, Canada, Mexico, Japan, India and Taiwan.
"Though CIHS was interrupted for three years due to the pandemic, this year's event marks a grand comeback and restart, and we have exceeded expectations in terms of the scales, numbers of exhibitors and visitors, performance of events and the feedbacks from all participants," Mr. Zhang Dongli, President of China National Hardware Association stated. "Such achievement symbolises the dedication and innovative inputs of the organisers and respective partners, as well as the active support and participation of all exhibitors and visitors. After over three years of endeavours, a splendid event has been presented during the three show days. Not only did it exceed everyone's anticipation, but it also laid a solid foundation for the successful show in 2024. Meanwhile, we will continue to facilitate all participants with more premium services, improvement initiatives and build a development pattern that empowers a spectacular CIHS."