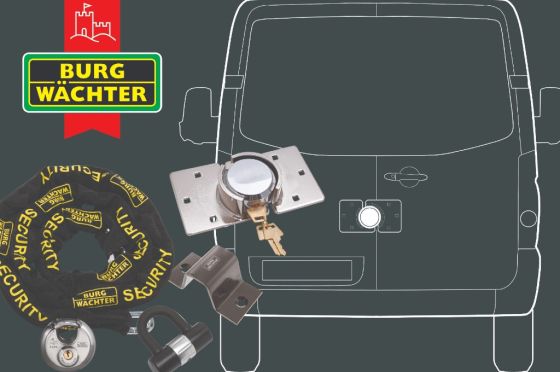 Leading security specialist, Burg-Wächter UK and joint campaign partner Toolstation, have promised to support the Rainy Day Trust to supply security equipment to independent tradespeople who become victims of tool theft.
The Rainy Day Trust is a UK charity specifically supporting the home improvement industry.
Tool theft rise
Bryan Clover, Chief Executive of the Rainy Day Trust, said: "Tool theft is becoming more prevalent and that is a factor of the way the economy is going. If your power tools are gone and you're a roofer, for example, you can't go to work the next day – it's as simple as that."
"However, if the worst does happen, the Rainy Day Trust is here to help. Once verified as a genuine claim, replacement tools are organised as quickly as possible to help minimise the disruption a theft can cause."
Burg-Wächter UK's role in the scheme was to provide a selection of security products ideal for protecting van doors as well as bolts and chains to secure both vehicles and tools. Although good insurance is still needed, fitting good strong high-quality security devices will help to protect against, and deter future attacks.
Andrew Field, Managing Director at Burg-Wächter UK said: "We are very proud to be able to support the Rainy Day Trust and Toolstation's tool theft awareness campaign by providing practical help – in the form of high-quality security products – to tradespeople who are victims of burglary, as swiftly as possible to help protect not only their essential tools but also their livelihoods."
For more information on the Rainy Day Trust visit www.rainydaytrust.org.uk or call 0203 192 0486. For more information on Burg-Wächter's home security products, visit www.burg.biz/uk or call 01274 395 333.