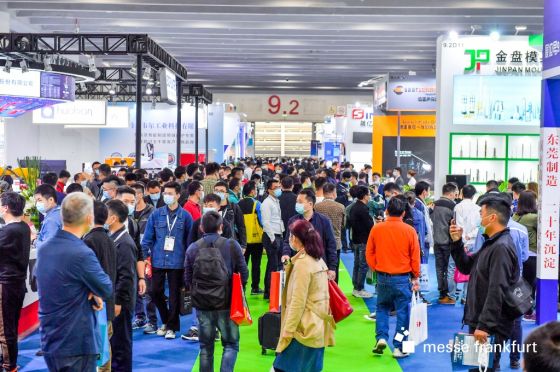 For many years, Messe Frankfurt's annual Asiamold event has been well recognised by the South China mould-making sector as well as the firms that rely upon these moulds. In response to the rapid growth and diversifying needs of the region's manufacturing sector, the company has announced that the show will host a second annual edition, with the introduction of an autumn event in Shenzhen from 2024 onward. Both the Guangzhou and Shenzhen editions will be grouped under the name "Asiamold Select" and are aimed at aligning with the country's sustainability and intelligent manufacturing development initiatives.
Guangdong serves as a central hub for a diverse array of manufacturing clusters. It is also the largest site for mould production and distribution in the country, over 30% of the country's mould-making outputs are contributed by the province. In addition to the rapid expansion of manufacturing technologies, factors including the ongoing advancement of the new energy and automotive industries are fuelling demand for a more diverse range of moulding solutions.
Asiamold Select will introduce a wide spectrum of efficient, innovative and sustainable manufacturing solutions including mould-making, 3D printing, die-casting, stamping and other technologies. The series is part of several events in Messe Frankfurt's Manufacturing Technologies & Components cluster. By hosting Asiamold Select concurrently with other fairs within the cluster, the individual platforms can converge as a one-stop shop for sourcing.
Asiamold Select – Guangzhou, will be held from March 4-6, 2024, at the China Import and Export Fair Complex alongside SPS – Smart Production Solutions Guangzhou (formerly SIAF Guangzhou).  As in previous years, the show will focus on moulds, dies and 3D printing. Through its collaboration with SPS – Smart Production Solutions Guangzhou, the two fairs will highlight the synergistic potential of smart manufacturing within the industry. Ultimately, the move is aimed at assisting the South China manufacturing sector with upgrading and transforming toward smart production and digitalisation. 
Asiamold Select – Shenzhen will take place in autumn 2024 at the Shenzhen World Exhibition and Convention Center concurrently with Formnext + PM South China. Participants will be able to benefit from the collaborative potential that can be found between moulding, additive manufacturing, powder metallurgy, and advanced ceramics technologies within a single venue.
Asiamold Select is organised by Guangzhou Guangya Messe Frankfurt Co Ltd and Guangdong Die & Mould Industry, and forms a part of a series of international events including:
Formnext + PM South China: 29 – 31 August 2023, Shenzhen, China
Formnext Forum Tokyo: 28 – 29 September 2023, Tokyo, Japan
Formnext: 7 – 10 November 2023, Frankfurt, Germany
For more information, please visit www.asiamold-china.com or email asiamold@china.messefrankfurt.com